This meatloaf is a true trip back to childhood. We paired it with cauliflower mash and green beans for a lighter take on this comforting meal.
Servings: 8
Serving Size: 1, 1-inch thick slice meatloaf (5-ounces/140g), ½ cup cauliflower mash (72g), 2 ounces (56g) green beans
Prep Time: 15 minutes
Total Time: 1 hour 20 minutes
Nutrition Facts: 289 calories / 19.5g carbs / 28g protein /11g fat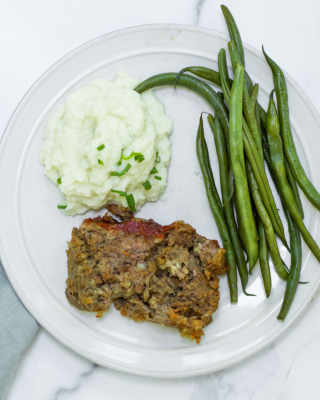 Ingredients:
Meatloaf
2 pounds (907g) 93% lean ground beef
½ cup (40g) quick oats
1 cup (121g) onion (diced)
1 egg (50g)
2 teaspoons dried thyme
2 tablespoons (30g) Worcestershire sauce
1 teaspoon garlic powder
1 tablespoon (16g) tomato paste
½ teaspoon salt
Meatloaf topping/sauce:
½ cup (136g) ketchup
3 teaspoons (14g) brown sugar
1 tablespoon white vinegar
1 teaspoon garlic powder
Cauliflower mash:
24 ounces (679g) raw cauliflower florets (chopped)
1 tablespoon butter
2 garlic cloves (minced)
½ teaspoon salt
fresh chives for serving (optional)
Green beans:
1 pound (448g) green beans
Instructions:
Preheat the oven to 375 degrees F.
To prepare the meatloaf: Gently mix together ground beef, oats, onion, egg, dried thyme, Worcestershire sauce, 1 teaspoon of the garlic powder, tomato paste, and salt in a large bowl. Transfer to a standard 9×5 loaf pan, gently pressing it so it's evenly dispersed in the pan. Bake for 40 minutes.
While the meatloaf is baking, mix together the ketchup, brown sugar, white vinegar, and the remaining 1 teaspoon garlic powder to make the sauce.. After 40 minutes, spread the topping on the meatloaf and return to the oven for 20-30 minutes, until the internal temperature reaches 165 degrees and meat is cooked through.
While the meatloaf is cooking, make the cauliflower mash. Boil the cauliflower for 7-10 minutes, until very soft. Drain. Return cooked cauliflower to the pot and add butter, garlic and salt. Blend with an immersion blender (you can also do this in a high speed blender) or mash with a potato masher (the blender makes it a more creamy consistency).
Transfer to a serving bowl and top with fresh chopped chives, if desired.
Steam the green beans for 5-6 minutes when the meatloaf is ready to serve.
Notes:
Store leftovers in the fridge for up to 3 days.