Need an easy weeknight lunch or dinner that satisfies? Look no further than these personal pita pizzas packed with the best flavors of the Mediterranean including fresh veggies, hummus, and feta cheese. They come together in minutes and you'll be coming back for them weekly.
Servings: 1
Serving Size: 1 pizza (222g)
Prep Time: 5 minutes
Total Time: 10 minutes
Nutrition Facts: 331 calories / 33g carbs / 22g protein / 13g fat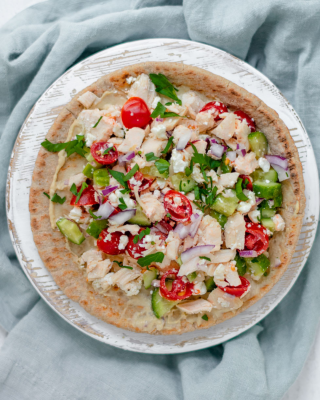 Ingredients:
1 (57g) "Thomas'"whole wheat pita pocket
¼ cup (34g) cucumber (chopped)
¼ cup (38g) cherry tomatoes (chopped)
1 tablespoon (6g) red onion (diced)
½ ounce (14g) reduced fat feta cheese
2 ounces (57g) cooked chicken breast
1 teaspoon olive oil
1 teaspoon red wine vinegar
1 tablespoon (14g) "Athenos Original Hummus"
Instructions:
Preheat your oven or toaster oven to 350F. Warm the pita in the oven until it is to your desired crispiness, about 3 minutes for lightly toasted or 5 minutes for crispy.
While the pita is warming, mix the cucumber, tomatoes, onion, chicken, and feta in a bowl. Toss with olive oil and vinegar, salt and pepper to taste.
When the pita is ready, spread the hummus on the pita and top with the salad mixture. Cut into 4 to 6 small slices. Serve immediately.
Optional garnish: fresh parsley or mint for serving (macros not included).
Notes:
The salad mixture can be made up to 24 hours ahead and stored in the refrigerator, leave off the dressing until ready to serve.
For an easy meal, use rotisserie chicken (macros not included).
If the Thomas' brand is unavailable, we recommend substituting with any other 6 ½" whole wheat pita, macros will vary slightly.