This Mediterranean Quinoa Salad just screams spring! Fresh chopped veggies, protein-rich quinoa, a simple lemon dressing, and Feta cheese make this meal prep friendly salad extra special. Enjoy with simple greens or a protein of your choice to make it a meal!
Servings: 6
Serving Size: 1 ⅓ cup (195g)
Prep Time: 15 minutes
Total Time: 35 minutes
Nutrition Facts: 294 calories / 33.5g carbs / 9.5g protein / 14.5g fat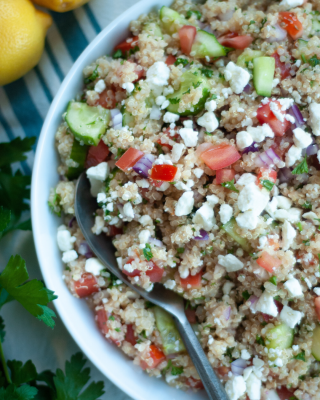 Ingredients:
1 cup (170g) uncooked quinoa
1 ½ cups (270g) diced tomato
1 ½ cups (156g) chopped cucumber
½ cup (120g) finely diced red onion
½ cup (50g) finely chopped parsley
2 lemons, juiced (about 4 tablespoons)
2 tablespoons olive oil
¾ teaspoon salt
½ cup (56g) "Athenos" reduced fat crumbled feta cheese
Instructions:
Rinse the quinoa well under cold running water using a fine mesh strainer. Add to a medium saucepan along with 2 cups of water. Bring to a boil, reduce heat to low, and simmer for about 20 minutes. The quinoa is ready when the water is absorbed and it's tender. Set aside to cool to room temperature.
While the quinoa is cooking, prepare the rest of the ingredients. Mix the tomato, cucumber, onion, parsley, lemon juice, olive oil, and salt together in a large bowl.
Add the cooked quinoa and mix well. Top with crumbled feta cheese.
Serve chilled or at room temperature. Enjoy alone, atop a salad, or alongside the protein of your choice.
Notes:
To speed the quinoa cooling process, spread onto a large plate so it has more air exposure.
If you don't have a fine mesh strainer, rinse the quinoa in a large bowl full of cold water. Stir for 1-2 minutes and then drain off the water.
---
Some of the links above are affiliate links, which may earn Macrostax a commission at no extra cost to you.