Fresh, crunchy vegetables and a vibrant lemon-Dijon vinaigrette make this a lighter alternative to the traditional, mayonnaise-heavy tuna salad.
Servings: 4
Serving Size: 294g
Prep Time: 12 minutes
Total Time: 15 minutes
Nutrition Facts: 257 calories / 21g carbs / 20.5g protein / 10g fat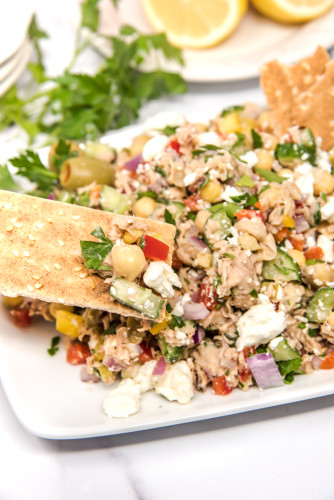 Ingredients:
3 tablespoons lemon juice
2 tablespoons Dijon mustard
1 tablespoon olive oil
1 clove garlic (minced)
½ teaspoon salt
¼ teaspoon black pepper
1-12 oz can (255g) chunk light tuna in water (drained)
1-16 oz can (253g) chickpeas (rinsed and drained)
½ medium (75g) red onion (diced)
1 medium (150g) cucumber (chopped)
1 cup bell pepper (148g), assorted colors (diced)
10 (90g) pimento stuffed queen olives (chopped)
½ cup (56g) reduced fat feta cheese
¾ cup (45 g) parsley, leaves only (chopped)
Instructions:
Whisk together lemon juice, Dijon mustard, olive oil, garlic, salt, and pepper in a small bowl. Set aside.
In a large bowl, mix together tuna, chickpeas, red onion, cucumber, red bell pepper, olives, feta, and parsley.
Drizzle salad with dressing then toss to combine.
Serve cold with crackers or pita chips (macros not included).
Notes:
Dressing can be made in advance and stored in an airtight container in the refrigerator for up to seven days. Assembled salad will keep refrigerated for up to three days.
Queen olives are a larger variety of green olive. Feel free to substitute any variety of olives for the same weight. Options for substitutions include Kalamata, Manzanilla, Cerignola, or even traditional black olives.