Light and airy, with a crisp exterior and chewy center, these melt-in-your mouth meringue cookies make the perfect sweet treat!
Servings: 10
Serving Size: 3 (15g) cookies
Prep Time: 10 minutes
Total Time: about 4 hours
Nutrition Facts: 47 calories / 10.5g carbs / 0.7g protein / 0g fat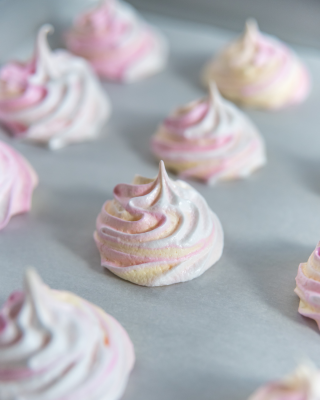 Ingredients:
2 (60g) large egg whites (at room temperature)
¼ teaspoon cream of tartar
⅛ teaspoon salt
9 tablespoons (108g) sugar
¼ teaspoon almond extract (optional)
food coloring of your choice (optional)
Instructions:
Preheat the oven to 225 degrees F and line a baking sheet with parchment paper.
In a large bowl, combine egg whites, cream of tartar, and salt and beat until soft peaks form – about a minute if using a stand mixer, longer for a hand-held mixer. Gradually sprinkle in the sugar, beating continuously, until the mixture is stiff and glossy. Stir in the almond extract (optional) and add food coloring, if desired.
Pipe meringues onto the prepared baking sheet using a piping bag with a star tip, or simply spoon onto the baking sheet in generous teaspoon-sized dollops.
Bake meringues for 1 hour, then, without opening the oven door, turn off the heat. Allow the meringues to cool in the oven with the door closed for at least 3 hours or overnight. Baked meringues will keep at room temperature in an airtight container for up to 2 weeks.
Notes:
This is a great recipe to make the night before – the cookies can cool in the turned-off oven overnight
Meringues don't do well in humid environments, so be sure to store them in an airtight container. If the surface of the meringues start to get tacky, simply pop them back in the oven for 20-30 minutes at 200 degrees to crisp them back up again.
To make these cookies vegan, replace the egg whites with a ¼ cup of aquafaba – the liquid drained from a can of chickpeas – and prepare as directed. (It sounds weird, but it works!)
The protein content is approximately 0.25g per meringue, though this may not appear in the app since the provision is so small.