This Asian-inspired meal is packed with all that umami flavor you crave. The miso ginger glaze pairs perfectly with meaty, yet mild cod and is complemented by crunchy baby bok choy and creamy white rice. It feels like something out of a restaurant, but it comes together in under 30 minutes in your kitchen!
Servings: 4
Serving Size: 3 ounces cooked cod (83g), ½ head baby bok choy (3.2 ounces)(90g), ¾ cup (3.5 oz) white rice (96g)
Prep Time: 10 minutes
Total Time: 30 minutes
Nutrition Facts: 406 calories / 50.5g carbs / 33.5g protein / 6.5g fat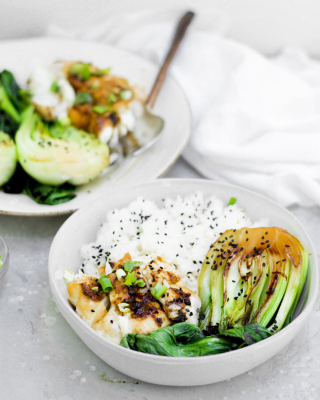 Ingredients:
1 cup (180g) uncooked white jasmine rice
¼ cup (60g) white miso paste
2 tablespoons fresh lime juice
2 tablespoons mirin
1 tablespoon sesame oil (divided)
2 teaspoons fresh grated ginger
2 teaspoons brown sugar
16-ounces (448g) raw cod fillet
2 medium heads (25 ounces/ 709g) baby bok choy
1 tablespoon soy sauce
1 tablespoon sesame seeds
Sliced green onions for serving (optional)
Instructions:
Preheat the oven to 400 degrees F.
Cook rice according to package directions.
To make the miso marinade, whisk together miso paste, lime juice, mirin, 1 teaspoon sesame oil, ginger, and brown sugar. This should form a thin paste. If the marinade is too thick to pour, add a tablespoon of water at a time until the desired consistency is reached.
Place the fish in a glass container or baking dish. Pour the marinade evenly over the fish and place in the fridge to marinate for 10 minutes.
While fish is marinating, wash the bok choy and slice each head in half lengthwise. Heat the remaining 2 teaspoons of sesame oil in a large saute pan or cast iron pan. Once hot, place the bok choy in the pan with the cut side down. Let it sear for 2-3 minutes until it gets slightly browned, then flip over. Drizzle soy sauce over bok choy and let it finish cooking until softened but still has structure, about 2-3 minutes. Place on a platter and sprinkle sesame seeds over it for serving.
To cook the fish, heat an oven-safe pan over medium-high heat (cast iron works great here) and sear each side of the fish for 2 minutes. Then place fish in the oven, pouring any remaining marinade over the top, and finish cooking for about 3-5 minutes, until the fish flakes easily with a fork. Exact time will depend on the thickness of your fish.
Serve fish with white rice and bok choy. Top with thinly sliced green onions, if desired.
Notes:
Store leftovers in the fridge in an airtight container for 1 day. Leftover fish is best eaten cold, though it could be reheated on the stove or in the oven at a low temperature so it doesn't dry out.
---
Some of the links above are affiliate links, which may earn Macrostax a commission at no extra cost to you.