You've had regular pot roast, but have you tried its tangier, zingier cousin? This roast has the warmth of comfort for the perfect fall dinner, with Ranch and pepperoncini for an extra kick!
Makes: 8 servings
Serving Size: 1 serving (168g)
Prep Time: 15 minutes
Total Time: 5 hours 15 minutes
Nutrition Facts: 343 calories / 2.5g carbs / 55.5g protein / 11.5g fat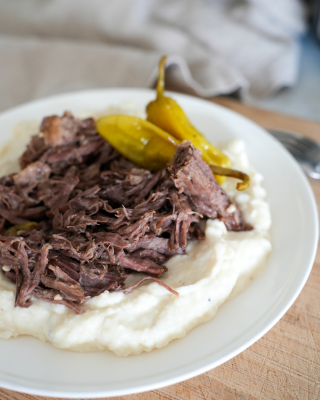 Ingredients:
3 lbs (1361g) raw beef chuck roast
½ cup (120g) beef broth
½ cup (120g) pepperoncini juice (from the jar)
1 packet (28g) "Hidden Valley" ranch dressing mix
1 tablespoon (8.5g) minced garlic
5 (365g) pepperoncini peppers
Instructions:
Trim the fat from the beef chuck as desired.
Heat a large pan on high heat.
Season beef with salt and pepper and sear on all sides for 1-2 minutes each.
Place the beef in the slow cooker and add remaining ingredients, making sure to evenly combine.
Cook on low for 8-10 hours or on high for 4-5 hours.
When done, shred beef with a fork. Serve with a side of mashed potatoes or rice and enjoy! Macros not included.
Notes:
No slow cooker? Place your ingredients in a large oven safe pot, cover tightly, and cook at 275 degrees for 3-4 hours until the meat is tender.
Some of the links above are affiliate links, which may earn Macrostax a commission at no extra cost to you.