Creamy mushroom risotto is the definition of comfort food! It pairs perfectly with almost any protein, for a satisfying and hearty meal.
Servings: 4
Serving Size: About 1 cup risotto (235g)
Prep Time: 5 minutes
Total Time: 35-40 minutes
Nutrition Facts: 295 calories / 49g carbs / 11g protein / 6.5g fat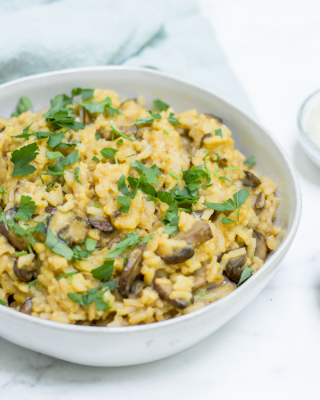 Ingredients:
1 tablespoon butter
8-ounces (227g) mushrooms (sliced)
½ cup (60g) shallot (diced)
2 garlic cloves (minced)
1 cup (180g) dry Arborio rice
4-ounces (116g) dry white wine
4 cups (904g) low-sodium vegetable broth
¼ cup (28g) grated Parmesan cheese
Instructions:
Heat butter in a large heavy bottom pan or dutch oven over medium heat. Once butter is melted add the shallots and mushrooms and saute until they are softened, about 5-6 minutes, stirring frequently. Add the garlic and cook for another 30 seconds until fragrant.
Add the arborio rice and stir around with the mushroom and onion mixture. Add the white wine and reduce heat to low. Let the rice mixture cook until it absorbs most of the wine, stirring frequently.
Slowly add broth, about ½ cup at a time, stirring the risotto and allowing the rice to slowly absorb the liquid before adding more. Continue to do this until you've added all of the broth and risotto is creamy and has tripled in volume. This process takes around 25 minutes.
Remove from heat and stir in Parmesan cheese. Season with salt and pepper as desired and top with fresh chopped parsley to garnish, if using.
Notes:
Store leftovers in the fridge for 3-4 days.
For this recipe, the white wine is counted as a carbohydrate.