Don't lobster rolls just scream summer? This lightened up take on the New England lobster roll is everything you want in a special lunch or dinner. It's fast, fresh, and oh so delicious. Enjoy outside for the full summer experience.
Servings: 4
Serving Size: 1 roll (45g) with 4 ounces lobster salad (about ½ cup), 157g total
Prep Time: 10 minutes
Total Time: 10 minutes
Nutrition Facts: 309 calories / 26.5g carbs / 19.5g protein / 7.5g fat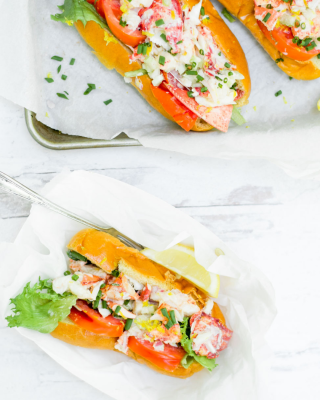 Ingredients:
12-ounces (343g) cooked lobster meat (cut into bite sized pieces)
1 tablespoon plain nonfat Greek yogurt
1 tablespoon mayonnaise
1 tablespoon lemon juice
1 tablespoon fresh lemon zest
½ cup (58g) diced celery
¼ cup (29g) red onion (diced)
¼ teaspoon salt
4 brioche style hot dog buns (46g each)
Instructions:
To make the lobster salad, mix together lobster, yogurt, mayonnaise, lemon juice and zest, celery, red onion, salt, and fresh ground pepper, to taste.
Fill each bun with 4 ounces of the lobster salad (about ½ cup). Top with optional fresh chopped chives and lemon zest. Serve immediately.
Notes:
Add fresh tomato slices and lettuce, as desired. Macros will vary slightly.
Store leftover lobster salad in the fridge for 1-2 days and assemble rolls just before eating.
Both "Whole Foods" and Kroger, branded as "Private Selection", make a variety of brioche bun. A submarine roll or hot dog bun can be substituted, as needed.