Store bought protein bars, we gotcha beat! These No Bake Protein Bars are flavored with CHOCOLATE and PEANUT BUTTER (um, yes) and mix up in the blender in no time flat. Protein powder and peanut butter add a serious hit of protein – 8 grams per bar. Not to mention, they're vegan. Who knew?!
Servings: 12 bars
Serving Size: 1 bar (55g)
Prep Time: 15 minutes
Total Time: 75 minutes
Nutrition Facts: 185 calories / 21g carbs / 8g protein / 8g fat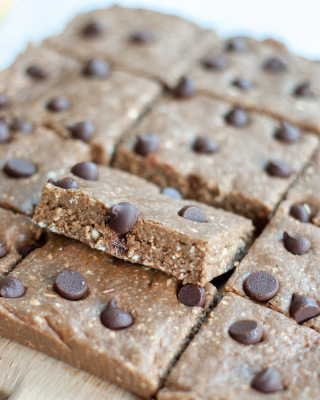 Ingredients:
1 ½ cups (120g) old-fashioned oats
1 ½ scoops (60g) "Vega Sport" vanilla performance protein powder
1 medium (118g) banana
½ cup (138g) natural creamy peanut butter (we used "Smucker's")
⅓ cup (105g) maple syrup
¼ cup (60g) unsweetened almond milk
3 tablespoons (15g) cocoa powder
1 teaspoon cinnamon
½ teaspoon salt
¼ cup (46g) Guittard semisweet chocolate chips
Instructions:
Line a 8×8 or 9×9-inch baking dish with parchment paper, leaving an overhang so that you can easily lift the bars out once they're set.
Use a food processor or powerful blender to blend the oats until they resemble coarse crumbs.
Add the rest of the ingredients to the food processor and blend until combined. The mixture will form a large ball.
Tip the oat mixture into the prepared baking dish and smooth the surface with a rubber spatula. Press the mixture down with the heel of your palm or the bottom of a drinking glass to pack it evenly into the pan.
Sprinkle with chocolate chips. Press the chips lightly into the surface of the bars.
Freeze for 60 minutes. Slice into 12 bars. Store in individual zip-top bags or an airtight container in the refrigerator for up to a week or in the freezer for up to 3 months.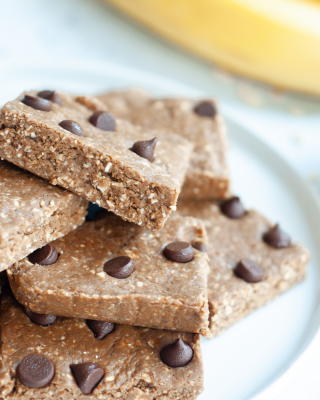 Notes:
Feel free to use any vanilla flavored protein powder and chocolate chips you have on hand. As written the recipe is dairy-free and vegan but other brands of protein powder and chocolate chips may contain dairy.
You can also use almond butter instead of peanut butter, depending on the brand the macros are usually very similar.
---
Some of the links above are affiliate links, which may earn Macrostax a commission at no extra cost to you.