This quick 5 minute sandwich is stuffed to the brim with turkey and fresh veggies. This recipe is also super versatile. You can swap the suggested veggies out with whatever you have on hand! Our high carb, high protein Turkey Avocado Bagel Sandwich is an easy on-the-go refuel meal for busy days.
Servings: 1
Prep Time: 5 minutes
Nutrition Facts:  433 calories / 53.5g carbs / 30g protein / 11.5g fat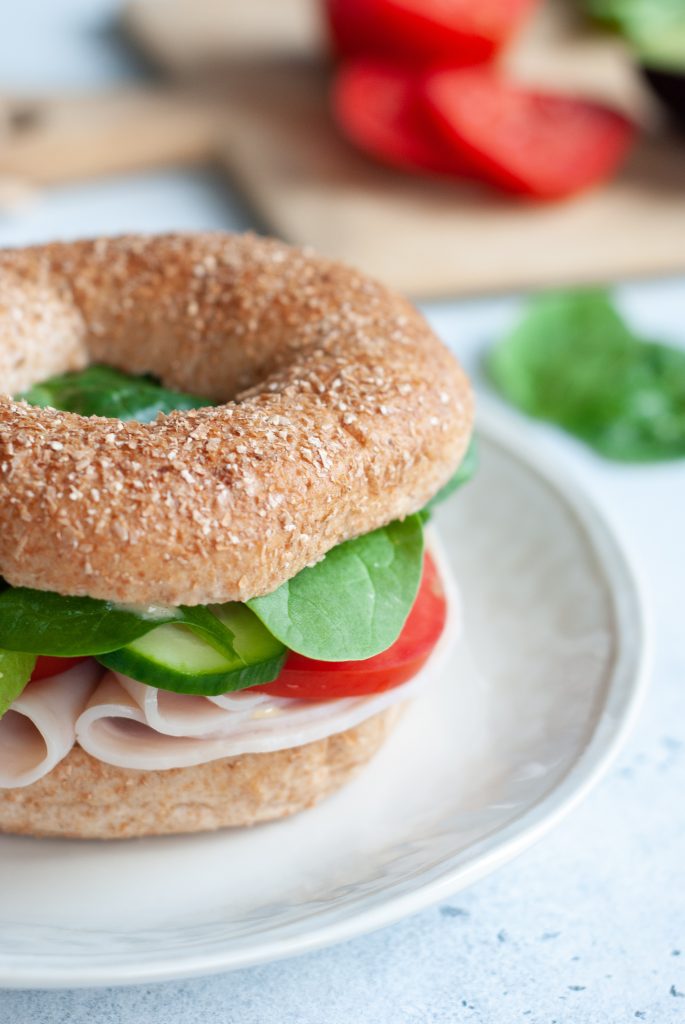 Ingredients:
1 "Thomas" whole wheat bagel (95g)
2 tablespoons (31g) mustard
3 ounces (85g) "Hormel Natural Choice" deli turkey
2 slices (30g) tomato
¼ avocado (34g) (sliced)
4 cucumber slices (28g)
¼ cup (8g) baby spinach
Instructions:
Toast bagel if desired. Spread each half with mustard. Top the bottom half with turkey, cucumber slices, tomato, avocado, and spinach, and top with the other bagel half.
Slice in half and enjoy! This sandwich can be made in advance and stored in the refrigerator for up to 12 hours.
Notes:
The mustard, cucumber, tomato, and spinach are very low in macros so feel free to leave out or adjust quantities as you like. Sliced bell peppers, red onion, or sprouts are other delicious low-macro sandwich stuffers!