This lasagna soup has allll the lasagna flavor packed into an easy-to-make soup. Made in just one pot, your family will love this twist on a comfort food-classic!
Servings: 6
Serving Size: 1 ½ cup (295g) soup with 2 ½ tablespoons (28g) ricotta cheese topping
Prep Time: 10 minutes
Total Time: 55 minutes
Nutrition Facts: 353 calories / 34g carbs / 28g protein / 12g fat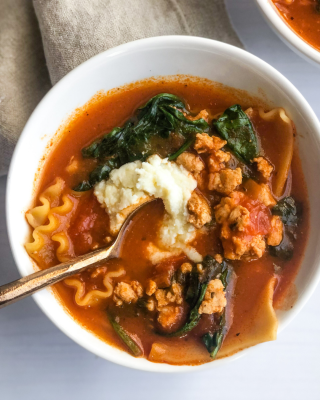 Ingredients:
2 teaspoons olive oil
1 lb (453g) 93% lean ground turkey
¼ teaspoon salt
⅛ teaspoon pepper, plus more to taste
1 teaspoon Italian seasoning
2 cloves (6g) garlic (minced)
2 tablespoons (56g) chopped fresh basil (plus extra for garnish)
3 cups (720g) fat free chicken broth
2 ½ (592g) cups water
2 cups (452g) Cucina Antica garlic marinara sauce
8 ounces (224g) uncooked Barilla lasagna noodles
3 cups (90g) baby spinach
¼ cup (28g) shredded part-skim mozzarella cheese
½ cup (124g) part-skim ricotta cheese
3 tablespoons (21g) grated Parmesan cheese
Instructions:
Place a large soup pot over medium heat and add olive oil. Once the oil is hot, add the ground turkey, salt, and pepper. Stir to break up the turkey and cook until browned, about 4 minutes.
Add the minced garlic and cook for another minute.
Add the chopped fresh basil, chicken broth, water, and marinara sauce to the pot and stir to combine. Increase the heat to medium-high and bring to a boil. Once boiling, reduce heat to a low simmer and cover. Simmer for 25 minutes.
Uncover and increase the heat to a low boil over medium-high heat. Break the lasagna noodles into bite-sized pieces and add to the boiling water.
Boil for 14 minutes, or until the noodles are al dente. Add the baby spinach during the final two minutes of cooking and stir. Taste and add salt, pepper, or additional basil to taste.
In a small mixing bowl, combine the mozzarella cheese, ricotta cheese, and parmesan. Divide the cheese mixture on top of each bowl and add extra black pepper to taste. Enjoy!
Notes:
To store leftovers, strain the noodles out of the soup and store them in a separate airtight container. This will keep them from soaking up the remaining broth. Leftovers can be stored for up to 5 days in the fridge.
For storing, option to stir the ricotta cheese mixture into the broth, or store it separately. It will also last for up to 5 days in the fridge.
The soup without the noodles can be frozen for up to 4 months in an airtight container or freezer bag. I don't recommend freezing the cooked noodles as they don't thaw well.
For extra texture, use curly kale instead of the spinach.
To make the recipe gluten-free, use gluten-free lasagna noodles.
Regular or oven-ready noodles will work. Oven-ready noodles will likely need only 10 to 12 minutes to cook.
Keep in mind that some marinara sauces are higher in fat than others. Look for brands like Cucina Antica with just 1 gram of fat per ½ cup (113g) serving.
---
Some of the links above are affiliate links, which may earn Macrostax a commission at no extra cost to you.