This oven-fried chicken is crispy on the outside and juicy on the inside, just like fried chicken! But with a fraction of the fat. Enjoy these chicken legs when you're craving some comfort food but don't want to be weighed down.
Servings: 6
Serving Size: 110g, 1 chicken drumstick
Prep Time: 5 minutes
Total Time: 35 minutes
Nutrition Facts: 297 calories / 8g carbs / 30.5g protein / 11.5g fat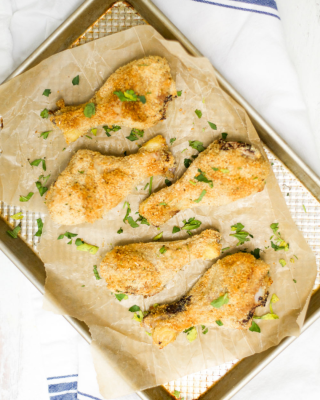 Ingredients:
½ cup (56g) plain bread crumbs
2 tablespoons (12g) grated Parmesan cheese
1 teaspoon garlic powder
1 teaspoon dried oregano
1 teaspoon dried parsley
½ teaspoon salt
fresh ground black pepper (to taste)
¾ cup (184g) fat-free milk
6 (681g) chicken drumsticks (with skin)
Instructions:
Preheat the oven to 400 degrees.
Combine bread crumbs, cheese, garlic powder, oregano, dried parsley, salt, and fresh ground black pepper to taste in a bowl. Transfer this mixture to a large plastic freezer-style bag that closes.
Place milk in a bowl and dip one chicken leg at a time in the milk until it's well coated and place each leg in the bag with the breadcrumb mixture. You can put 2-3 in the bag at a time.
Close bag and shake or massage chicken into breadcrumb mixture until each leg is well covered in breadcrumbs. Repeat with additional legs until all are covered. Place breaded chicken legs on a baking sheet. Discard remaining milk.
Bake for 30 minutes, until chicken is cooked through and reaches an internal temperature of 165 degrees.
Serve immediately with optional parsley for garnish.
Notes:
Chicken can be stored in the refrigerator for 1-2 days and reheated in the oven.