Spring has sprung and it's time to get your greens in! This vibrant tropical smoothie is packed with good-for-you foods like baby spinach, avocado, and mango. With over 20 grams of protein, this micronutrient-rich smoothie makes a great pre- or post-workout snack too!
Makes: 1 smoothie
Prep Time: 5 minutes
Nutrition Facts: 224 calories / 26g carbs / 21g protein / 6g fat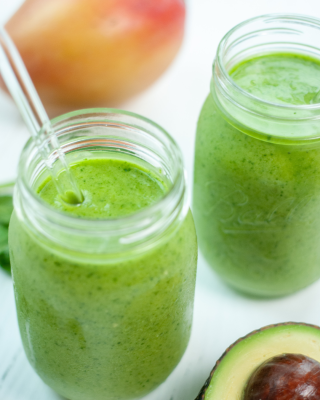 Ingredients:
2 cups (60g) packed baby spinach
¾ cup (180g) "Vita Coco" pineapple coconut water
½ cup (83g) frozen mango pieces
¼ avocado (34g)
2 scoops (20g) "Vital Proteins" unflavored collagen peptides
Instructions:
Place spinach and coconut water in a blender and blend on high for 2-3 minutes or until the spinach is pureed into very small pieces.
Add the frozen mango, avocado, and collagen peptides to the blender. Throw in a few pieces of ice if you like extra thick smoothies.
Blend on high for 20-30 seconds or until all ingredients are well incorporated. Sprinkle with hemp or chia seeds if desired (macros not included.) Enjoy!
Notes:
You can use any flavor of coconut water (or substitute 100% orange juice or milk/milk substitute.)
Feel free to use any protein powder you have on hand or omit the protein altogether. An unflavored protein works best with this recipe because it allows the subtle pineapple and mango flavors to shine.
The macros for this smoothie without protein powder are: 26g carbs, 3g protein, 6g fat, and 154 calories. If you substitute your own protein powder, add the macros for 1 scoop to these numbers.