Burger cravings beware! With only 6 ingredients, this Paleo-friendly burger is SO simple and SO good. Jerk-seasoned beef patties and tangy broccoli slaw, sandwiched between roasted sweet potato rounds? We're in. This recipe would be perfect for your next summer barbecue.
Servings: 4
Serving Size: 1 burger
Prep Time: 15 minutes
Total Time: 45 minutes
Nutrition Facts: 334 calories / 30g carbs / 25g protein / 11.5g fat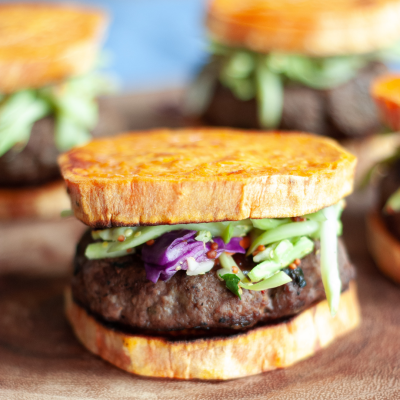 Ingredients:
For the patties:
1 lb (453g) 90% lean ground beef
1 ½ tablespoons jerk seasoning
For the burgers:
2 large sweet potatoes (ends discarded, using the center portions only, about 540g)
1 cup (85g) broccoli slaw
1 tablespoon apple cider vinegar
1 tablespoon whole grain Dijon mustard
Salt and pepper
Instructions:
Preheat the oven to 400 degrees. Line a baking sheet with foil and spray with non-stick cooking spray.
Peel sweet potatoes. Using the middle (widest) center section of each potato, slice eight ½-inch rounds (each round is about 65g) and place on the prepared baking sheet. Spray the sweet potato rounds with nonstick spray.
Bake for 15 minutes, flip, and bake for another 10-15 minutes or until cooked through but not mushy.
Meanwhile, make the burgers by combining the ground beef and jerk seasoning in a medium bowl. Divide evenly into four 4-oz balls and gently form into patties with your hands.
While the sweet potatoes are baking, cook the burgers on the grill or in a skillet over medium-high heat for 4-6 minutes per side, or until they reach your desired level of doneness. Sprinkle with additional jerk seasoning if desired.
Make the broccoli slaw by tossing together the broccoli slaw, vinegar, and mustard. Season generously with salt and pepper.
Assemble the burgers by topping a sweet potato round with a burger patty, about ¼ cup of slaw, and topping with another sweet potato round. Repeat to make 4 burgers in total.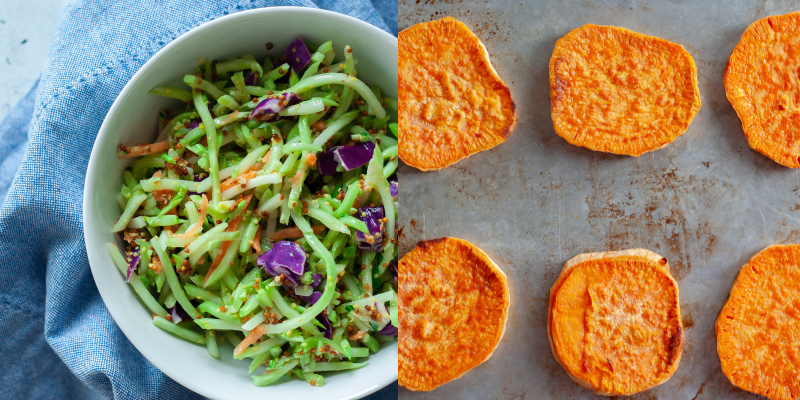 Notes:
This broccoli slaw is also delicious enjoyed as a side rather than a topping, since these burgers can be messy to eat! The slaw has almost 0 macros, so feel free to leave it out if you like – the macros for the meal will remain the same.
Other delicious topping ideas: grilled onions, sliced tomato, grilled pineapple, or avocado (macros not included.)
Save the ends and other offcuts from the sweet potatoes (that you don't use for the rounds) to cook for another meal. They are delicious diced and roasted or steamed!