Bell peppers stuffed with quinoa, turkey, salsa, and cheese? Yes please! This quick meal is satisfying, nutritious, and individually portioned. And did we mention melted cheese? This recipe can be made in bulk and frozen for later, too!
Servings: 4
Serving Size: 1 pepper
Prep Time: 10 minutes
Total Time: 60 minutes
Nutrition Facts: 325 calories / 27.5g carbs / 28.5g protein / 12.5g fat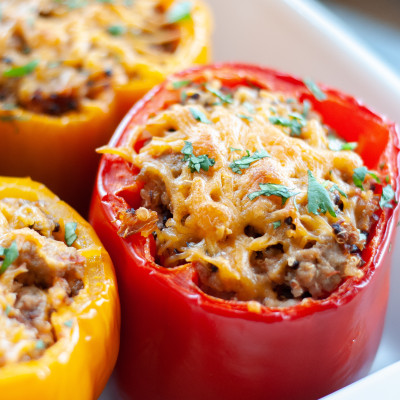 Ingredients:
1 teaspoon olive oil
1 lb (453g) raw ground turkey (93% lean)
1 cup (256g) "Pace" picante mild salsa
1 tablespoon cumin
1 teaspoon garlic powder
¼ teaspoon salt
1 ½ cups (278g) cooked quinoa
4 large (456g) bell peppers
4 tablespoons (28g) "Kraft" reduced fat shredded cheddar cheese
Instructions:
Preheat oven to 350 degrees. Line a 8×8-inch or 9×9-inch baking pan with foil.
Slice the tops off the bell peppers and remove the inner seeds. Place them upright in the prepared baking sheet. If the peppers are crooked, gently slice a thin, straight layer off the bottom to make an even surface for them to stand on.
Heat olive oil in a large skillet over medium heat. Add the ground turkey, cumin, garlic powder, and salt to the pan and cook for 3-5 minutes, stirring frequently, until turkey is no longer pink.
Add the salsa and quinoa to the pan and stir well. Season to taste with additional salt and pepper.
Spoon the meat and quinoa mixture into each of the 4 bell peppers. Sprinkle each pepper with 1 tablespoon of shredded cheese. Pour ⅓ cup water into the baking pan and cover with foil.
Bake for 30 minutes, remove foil, and then bake for another 20 minutes or until the peppers are cooked through and the cheese is melted. Store leftovers in the refrigerator for 3-5 days or in the freezer for up to 3 months.
Notes:
Freezing instructions: You can freeze these peppers either baked or unbaked. If freezing already-baked, cool to room temperature, place peppers in a freezer-safe airtight container (such as a freezer bag or casserole dish that has a lid), and store in the freezer for up to 3 months. Reheat in the oven before enjoying. If freezing unbaked, place stuffed peppers in a casserole dish, cover tightly with plastic wrap and foil, and freeze. You can either defrost before baking or bake frozen (increase cooking time accordingly.)
To make these peppers dairy-free omit the cheese. Macros: 27.5g carbs / 26.5g protein / 11g fat and 305 calories.