What's berry creamy, takes 5 minutes to put together, and enjoys relaxing overnight as much as you do? PB&J Overnight Oats! The peanut butter + jelly dream team is here to rescue your mornings. Frozen raspberries, powdered peanut butter, and Greek yogurt take these overnight oats to the next level. Mix everything together before bed, refrigerate overnight, and you'll wake up to a deliciously high protein breakfast that's perfect for those on-the-go mornings. P.S. This meal is naturally gluten-free, and you can reference the "notes" section below for instructions on dairy-free modifications.
Servings: 1 serving
Prep Time: 5 minutes
Total Time: 6-8 hours
Nutrition Facts: 46g carbs / 25g protein / 8g fat / 346 calories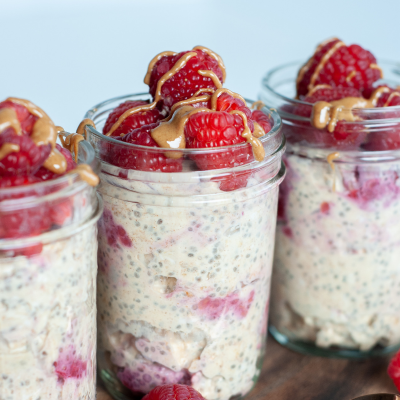 Ingredients
½ cup (40g) raw old-fashioned oats
¼ cup (57g) plain nonfat Greek yogurt
½ cup (120g) fat-free "Fairlife" ultra-filtered milk
¼ cup (35g) fresh or frozen raspberries
1 tablespoon (13g) chia seeds
2 tablespoons (16g) powdered peanut butter
Dash of ground cinnamon
Instructions
Mix all ingredients together in a jar, bowl, or tupperware. Cover tightly and refrigerate overnight.
When ready to serve remove from the fridge and enjoy! The oats will be very thick and creamy, so add a splash of milk to loosen if you like. Top with additional raspberries or a drizzle of peanut butter or maple syrup if desired (macros not included). YUM.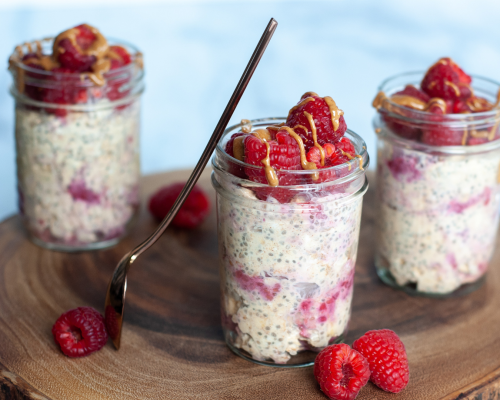 Notes
This is a perfect make-ahead meal-prep style breakfast. Double or triple the recipe, leftovers keep well in the refrigerator for 3-5 days.
Substitute any of your favorite fruit for the raspberries. However, if you're using bananas or apples (or any other fruit that browns easily), stir them in right before serving.
To ensure this meal is gluten-free use certified gluten-free oats.
To make a dairy-free version with 378 calories / 41g carbs / 31.5g protein / 10.5g fat:
---
Some of the links above are affiliate links, which may earn Macrostax a commission at no extra cost to you.