Easy, meet delicious! Zoodles with Easy Sundried Tomato Meat Sauce will soon become your new family favorite. This quick, whole food-based meal is made with low carb "zoodles" (zucchini noodles) topped with a super flavorful ground turkey meat sauce. Perfect for a quick weeknight dinner or make-ahead meal prep lunch!
Servings: 4
Serving Size: 327 g (1 ⅓ cups) sauce + 76 g (1 ½ cups) zoodles
Prep Time: 5 minutes
Total Time: 25 minutes
Nutrition Facts: 23g carbs / 27.5g protein / 10g fat / 263 calories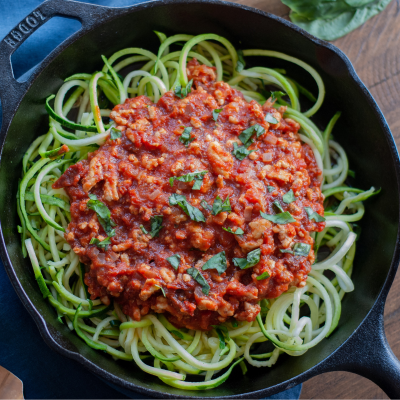 Ingredients
6 cups (304 g) spiralized zucchini noodles ("zoodles")
28 oz (794 g) canned crushed tomatoes
1 lb (454 g) raw ground turkey
1 teaspoon olive oil
½ medium onion (55 g), finely diced
½ cup (27 g) sundried tomatoes in oil, drained well and chopped
1 tablespoon dried Italian seasoning
½ teaspoon salt
Instructions
Saute onions in olive oil over medium heat for 3-5 minutes, until translucent.
Turn heat up to medium-high, add the ground turkey and Italian seasoning to pot, and cook for about 5 minutes or until the meat is no longer pink.
Add crushed tomatoes, drained sundried tomatoes, and salt to the pot and simmer for 10 minutes.
While the sauce is cooking, lightly saute the spiralized zoodles until just softened, about 2-4 minutes or per package directions.
Serve zoodles topped with meat sauce. Garnish with fresh basil if desired.
Store leftovers in an air-tight container in the refrigerator for up to 3-5 days.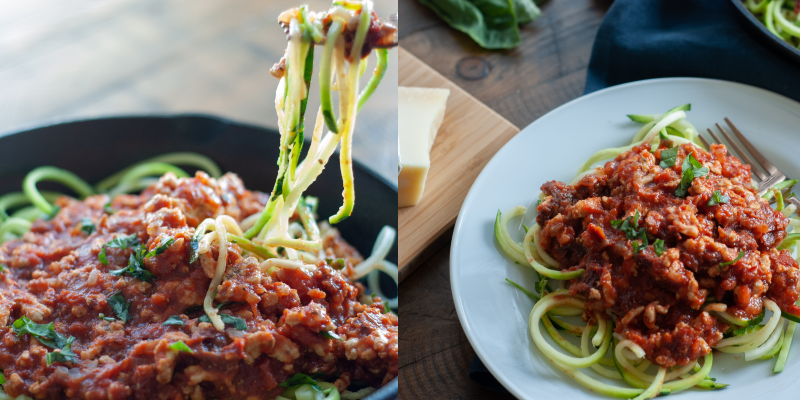 Notes
This recipe is great for meal prep! Make the sauce in advance and store in a plastic storage bag in the freezer for up to 3 months. Defrost in the refrigerator overnight before heating and serving.
Other side options include: chickpea pasta, spiralized squash, beet, or carrot "noodles", or regular pasta.
Omit the meat for a vegetarian/vegan marinara alternative.