Long summer days and an abundance of basil mean it's time for pesto! These power bowls combine classic Italian flavors with nutrient-rich quinoa for a light-but-filling lunch that will keep you fueled for a full day of summer activities.
Servings: 4 servings
Serving Size: 1 ¼ cups (218g) pesto-quinoa salad, 4 -ounces (113g) chicken
Prep Time: 5 minutes
Total Time: 10 minutes
Nutrition Facts: 341 calories / 28g carbs / 34.5g protein / 13.5g fat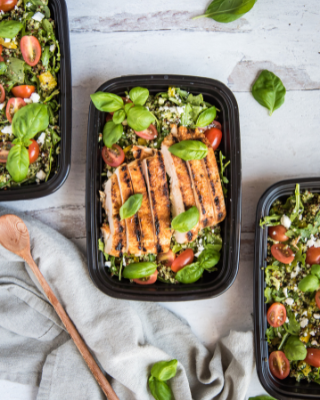 Ingredients:
2 cups (370g) cooked quinoa
1 ½ cups (222g) grape tomatoes (halved)
½ cup (56g) reduced fat feta cheese
4 cups (80g) arugula
½ cup (143g) kale pesto
1 lb (454g) cooked skinless chicken breast
Instructions:
Place quinoa, tomatoes, feta, and arugula in a large bowl. Add kale pesto and toss until evenly distributed.
Divide quinoa salad into 4 equal portions and top each with 4-ounces of chicken. Serve room temperature or cold, garnished with extra basil leaves, if desired.
Notes
Pesto bowls will keep in an airtight container in the fridge for up to 4 days.
Macros were calculated using grilled boneless, skinless chicken breast but rotisserie chicken will also work great here (macros will vary).