A quick and easy weeknight meal, this pineapple teriyaki chicken is better than takeout and comes together in less time than would take to call and get it delivered. It's fast, fresh, and the perfect combination of sweet and savory.
Servings: 4
Serving Size: 1.5 cups (209g) chicken with 2/3 cup (160g) coconut rice
Prep Time: 10 minutes
Total Time: 25 minutes
Nutrition Facts: 236 calories / 25g carbs / 28.5g protein / 4.5g fat
With coconut rice: 481 calories/73g carbs/ 32.5g protein/ 8.5g fat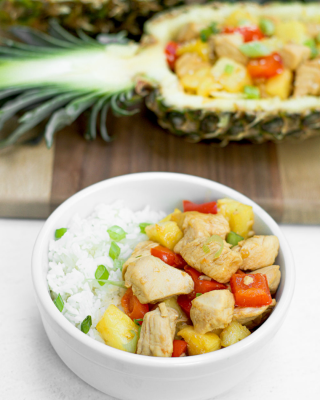 Ingredients:
6 tablespoons (84g) soy sauce
¼ cup (55g) brown sugar
1 tablespoon rice wine vinegar
1 tablespoon cornstarch
3 garlic cloves (minced and divided)
1 teaspoon grated fresh ginger
1 tablespoon olive oil
1 pound (454g) skinless, boneless chicken breast (cut into cubes)
2 cups (200g) red pepper (large dice)
2 cups (268g) pineapple (cut into cubes)
Instructions:
To make the teriyaki sauce: whisk together the soy sauce, brown sugar, rice wine vinegar, cornstarch, 2 of the garlic cloves, and grated ginger. Set aside.
Heat the olive oil in a medium to large saute pan. Add chicken and cook until it's beginning to brown on both sides (about 4 minutes). Add the remaining garlic and red pepper to the pan and cook for another 5 minutes, until the pepper gets soft.
Add the pineapple and teriyaki sauce to the pan and stir so the sauce evenly coats the chicken and peppers. Continue to cook until the sauce thickens a bit and the pineapple is slightly softened and heated through, 1-2 minutes.
Notes:
Serve with rice or other starch, as desired, and top with green onions or sesame seeds (macros will vary).
Store leftovers in the fridge for up to 3 days.