This one-pan wonder provides an easy, no-fail method for fork-tender pork, bursting with autumn flavors.
Servings: 6
Serving Size: 221g (115g pork + 106g apples/onions)
Prep Time: 15 minutes
Total Time: 45 minutes
Nutrition Facts: 281 calories / 24.5g carbs / 34.5g protein / 5g fat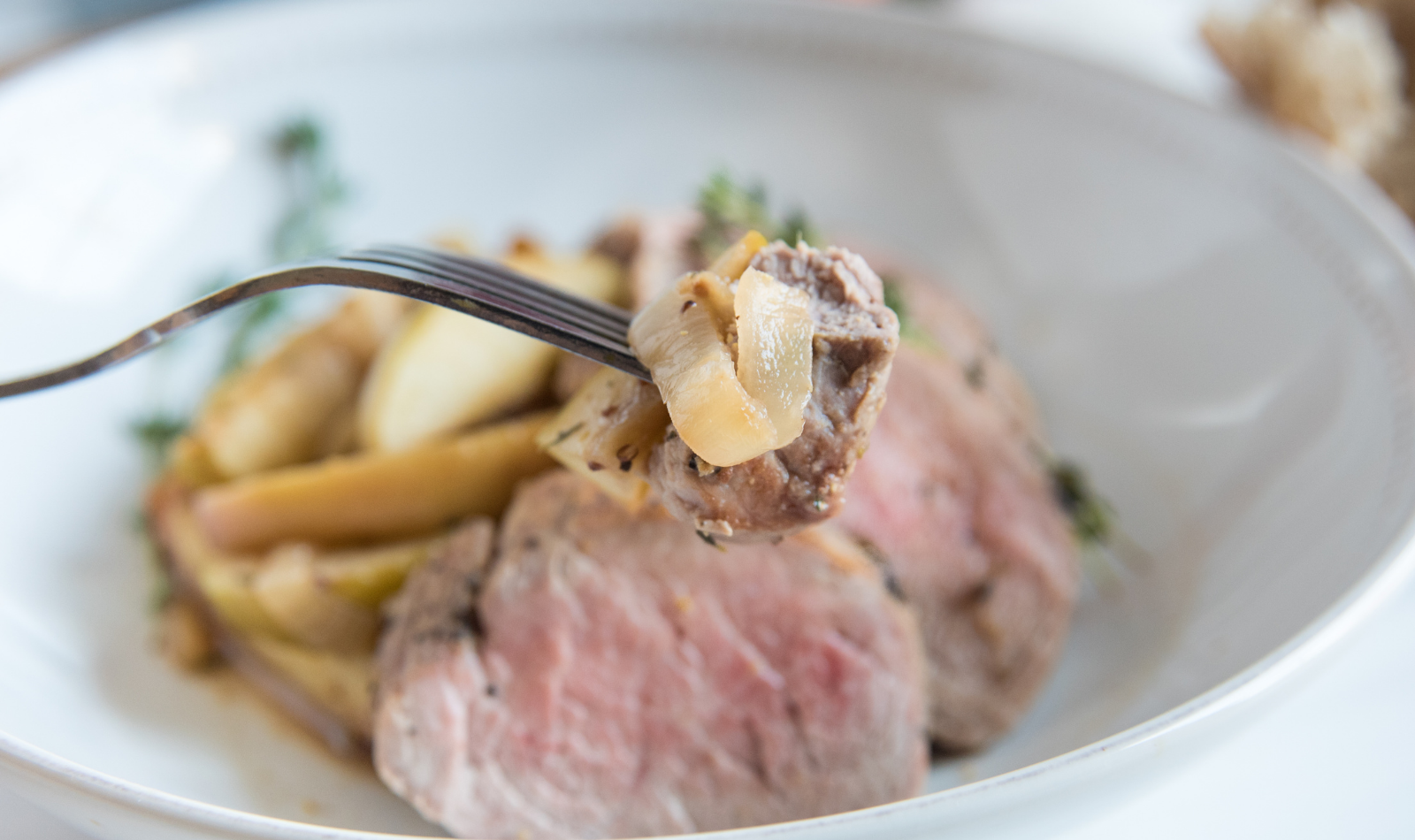 Ingredients:
2-1 lb (907g) pork tenderloins (trimmed of excess skin or fat)
1 teaspoon salt
2 teaspoons olive oil
3 medium (546g) Granny Smith apples (sliced into 16 wedges each)
2 medium (500g) onions (sliced)
6 cloves garlic (thinly sliced)
1/4 cup (62g) apple juice
2 tablespoons (30g) Dijon mustard
1 tablespoon apple cider vinegar
1 tablespoon fresh thyme (chopped)
Instructions:
Preheat the oven to 400 degrees.
Pat pork dry with a paper towel and season generously with salt. In a large oven-safe skillet or braiser, heat olive oil over medium-high heat until shimmering. Sear pork until golden brown on all sides, about 2-3 minutes per side, then transfer to a large plate and set aside. The meat will not be cooked all the way through.
Without wiping out the skillet, add apples, onions, and garlic to the pan. Sauté over medium heat until apples begin to soften and onions have turned translucent, about 5 minutes.
In a small bowl, whisk together apple juice, Dijon mustard, apple cider vinegar, and thyme and pour over the apple/onion mixture. Stir, gently scraping up any of the brown bits stuck to the bottom of the pan.
Return the pork loins (and any of their released juices) to the skillet, nestling them between the apples. Place the whole pan in the oven and roast for 13-15 minutes, or until an instant-read thermometer inserted into the thickest part of the loin reads 145-150 degrees.
Allow pork to rest for 5-10 minutes. Slice into ½ inch thick pieces and serve with the roasted apples and onions.
Notes:
If fresh thyme is unavailable, 1 teaspoon dried thyme may be substituted
If Granny Smith apples are not available, choose another variety such as Cosmic Crisp, Braeburn, or Jonathan that will stand up to cooking and is not overly sweet.
Pork cooked between 145-150 degrees will be perfectly juicy and slightly pink. This amount of pink is absolutely safe to consume, but those who prefer their meat well done should cook to an internal temperature of 160 degrees.
Use a pan that has a tight fitting lid and is large enough to comfortably fit both pork loins without touching. An overcrowded pan makes for a poor sear and a soggy dish! If an oven-safe pan is unavailable, transfer the seared pork and apples mixture to a casserole dish before baking.