This Quick Chicken Ramen is a dressed up version of instant ramen. With rotisserie chicken, instant noodles, and a soft boiled egg, this quick meal is packed with flavor and is on the table in less than 20 minutes!
Servings: 2
Serving Size: 2 cups with ½ soft-boiled egg (434g)
Prep Time: 5 minutes
Total Time: 15 minutes
Nutrition Facts: 288 calories / 33.5g carbs / 21g protein / 7.5g fat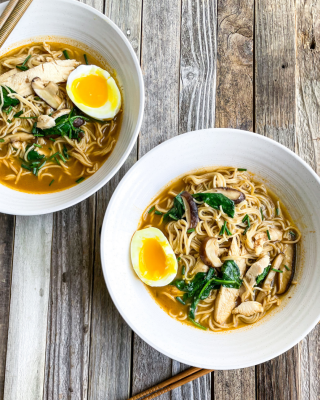 Ingredients:
½ tablespoon (7g) sesame oil
2 cloves (6g) garlic (minced)
1 tablespoon (8g) freshly grated ginger
1 medium (15g) green onion (sliced)
½ cup (30g) fresh Shiitake mushrooms
1 tablespoon (14g) reduced sodium soy sauce
3 cups (720g) fat-free chicken broth
1 cup (237g) water
1 (3-ounce) package (85g) "Maruchan" ramen noodles (seasoning packet removed)
2 cups (60g) fresh baby spinach
3 ounces (84g) rotisserie chicken breast (skin removed, shredded)
1 large (50g) egg
Optional toppings: jalapeno slices, fresh Thai basil, cilantro, sriracha, or sesame seeds (macros not included).
Instructions:
In a large soup pot over medium heat, add the sesame oil. Once the oil is hot, add the garlic, ginger, and white ends of the green onion. Cook for 1 minute, or until fragrant. Add the mushrooms and saute for 1 minute.
Increase the heat to medium-high and stir in the soy sauce, broth, and water. Bring to a boil.
Once boiling, add the ramen noodles (without the seasoning packet) and boil for 3 minutes, or until the noodles are soft. Add the spinach and chicken, then reduce the heat to low.
Meanwhile, add 1 inch of water to a small pot. Cover and bring to a boil over high heat. Add the egg to the pot, cover, and boil for 6 minutes. After 6 minutes, carefully remove the egg from the pot and run under cold water until the egg is cool enough to handle. Carefully peel the egg and slice in half.
Assemble your ramen bowls by evenly distributing the soup into two bowls. Add half the soft boiled egg to each bowl and garnish with green ends of the onion.
Notes:
To store leftovers, strain the broth and store it separately from the noodles, chicken, and vegetables. Leftovers will keep in airtight containers in the fridge for up to 5 days.
For a lower-sodium ramen, use 2 cups of broth and 2 cups of water.
You can also use 1 ounce dried shiitake mushrooms instead of fresh. Use ½ teaspoon ground ginger in place of fresh.
If you don't have sesame oil, you can substitute olive oil.
Sliced leftover baked chicken breasts can be used in place of rotisserie chicken.
To make this recipe vegetarian, use tofu instead of chicken (macros will vary).
To make the ramen gluten-free, use gluten-free noodles like Lotus Foods Millet and Brown Rice Ramen noodles. And gluten-free tamari sauce in place of the soy sauce (macros will vary).