This carrot cake may be raw but it's packed with the same flavors as the traditional version and includes nutritious ingredients like dates, walnuts, and high-protein Greek yogurt. Perfect for Easter, or for anytime you're craving something sweet!
Servings: 10
Serving Size: 1/10th of cake (338g)
Prep Time: 20 minutes
Total Time: 35 minutes
Nutrition Facts: 239 calories / 33.5g carbs / 6g protein / 9g fat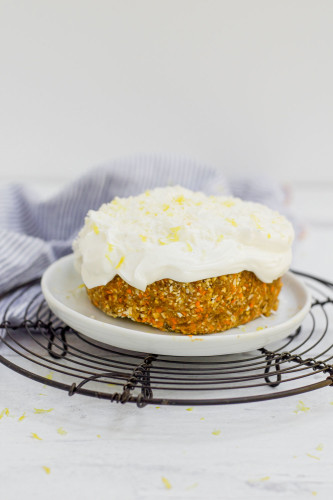 Ingredients cake):
1 ½ cups (165g) carrots (shredded)
½ cup (48g) rolled oats
12 (240g) medjool dates (pitted)
1 cup (112g) raw walnuts
1 teaspoon vanilla extract
½ teaspoon ground cinnamon
¼ teaspoon salt
¼ cup (22g) unsweetened shredded coconut
¼ cup (40g) golden raisins
Ingredients (frosting):
10 ounces (280g) plain nonfat Greek yogurt
3 ounces (84g) fat-free cream cheese
3 tablespoons (60g) maple syrup
1 teaspoon vanilla
½ teaspoon lemon zest (optional)
Instructions:
If carrots are not purchased pre-shredded, shred the carrots on a box grater or in a food processor using the shredder attachment. Set aside in a bowl.
Add the oats to the food processor and pulse until it makes a fine flour. Set aside.
Then add the dates to the food processor and blend until the dates begin to make a ball (they will start by becoming finely diced and then form a sticky ball). Break up the ball by hand into a few smaller balls and set aside. 
Place the walnuts, vanilla, cinnamon and salt in the food processor and pulse until a semi-fine meal is formed and the ingredients are well combined (about 10-15 pulses). 
Next, add the dates and carrots to the walnut mixture and pulse again until  well mixed, but not too fine. The goal is a pliable "dough" that still contains small pieces of each individual ingredient. Remove from the food processor and place in a medium to large mixing bowl. Stir in the oat flour, coconut, and raisins until all ingredients are well mixed.
Place a piece of parchment or wax paper in a 8 to 9-inch round cake pan or an 8×8 baking dish. Press in the dough until it's spread out. Use the back of a measuring cup to help spread it and press it evenly. Refrigerate for 10-15 minutes to help the cake set.
While the cake is chilling, make the frosting. Combine the yogurt, cream cheese, maple syrup, vanilla, and lemon zest(optional) in a mixing bowl and beat, using a hand mixer or stand mixer, until it becomes light and airy, about 2-3 minutes. 
Remove the cake from the refrigerator. Flip it over onto a plate and then peel away the wax/parchment paper. Spread the frosting over the cake evenly and cut into 10 slices.
Optional toppings: additional lemon zest or chopped walnuts (macros will vary).
Notes:
Use two 4-inch round pans instead of a single 8-inch pan for a thicker cake. Cut each cake into 5 slices, instead of 10.
Option to use prepared oat flour instead of processing rolled oats. Forty-eight grams of flour will be slightly less than ½ cup.
Store cake in the refrigerator for up to 4 days.
---
Some of the links above are affiliate links, which may earn Macrostax a commission at no extra cost to you.