Round off your holiday dinner with an indulgent red velvet cheesecake that you can feel good about! This deceptively simple, show-stopping dessert is sure to add color to your table and impress any guest!
Servings: 12 slices
Serving Size: 1 slice ( 140 g)
Prep Time: 20 minutes
Total Time: 1 hour and 25 minutes
Nutrition Facts: 189 calories / 19g carbs / 16g protein / 4g fat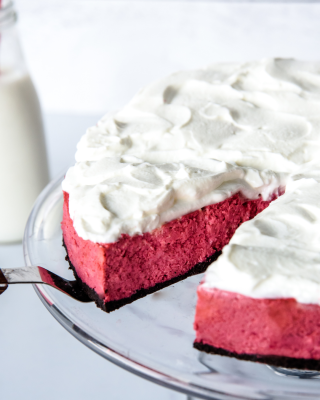 Ingredients:
23 wafers (138g) "Nabisco" famous chocolate wafers (crushed)
1 tablespoon (14g) melted butter
⅓ cup (67g) sugar (divided)
1 large (30g) egg white
¾ teaspoon salt (divided)
16 ounces (454g) "Philadelphia" fat free cream cheese (room temperature)
18 ounces (340g) plain nonfat greek yogurt, divided (room temperature)
2 teaspoons vanilla
3 large (150g) eggs
1 tablespoon (5g) unsweetened cocoa powder (sifted)
2 rounded scoops (61g) "Optimum Nutrition" Gold Standard 100% whey double rich chocolate protein powder
1⁄4 ounce (7g) "Wilton" red gel-based food coloring
Instructions:
Preheat oven to 300 degrees and spray a 9-inch springform pan with nonstick cooking spray.
Mix together the crushed wafers, melted butter, 2 tablespoons of the sugar, egg white, and ¼ teaspoon of salt in a medium mixing bowl. Press firmly into the bottom of your pan, using your fingertips to make a nice even layer.
Bake 7-8 minutes, until the crust is fragrant. Remove from the oven and set aside to cool as you prepare your filling.
Combine cream cheese, 12 ounces (1 ½ cups) of the yogurt, remaining ¼ cup of sugar, vanilla, and remaining ½ teaspoon of salt in a large mixing bowl and use an electric mixer to mix until smooth. Add eggs one at a time, beating until just combined.
Stir in your cocoa powder, protein powder, and red food color, taking care not to overmix.
Pour cheesecake mixture onto the crust, smooth out the top, and put in the oven. To help avoid cracks in your cheesecake, we recommend placing a shallow dish of warm water on the rack directly below.
Bake for 43-45 min, until the cheesecake is set around the edges but still jiggly in the center. Turn off the oven and let the cheesecake finish baking inside the warm oven for an additional 30 minutes.
Remove from the oven and cool cheesecake completely at room temperature.
Leaving the cheesecake in its pan, cover with saran wrap and refrigerate for at least 4 hours or overnight.
Top cheesecake with the remaining 6 ounces of greek yogurt and serve!
Notes:
No springform? No problem! Simply line a 9-inch round cake pan or 8-inch square tin with parchment paper and leave an overhang. Once the cheesecake has baked and cooled, lift it right out using the overhang.
Using room temperature ingredients and taking care not to overbeat your batter will help to ensure a crack-free, smooth cheesecake, but if your cheesecake does crack, don't worry! The greek yogurt on top will hide any flaws and your guests will be none the wiser.
If you can't find any Wilton red food coloring, or simply prefer to avoid artificial coloring, feel free to leave it out. The omission won't affect the macros and you'll be left with a lovely chocolate cheesecake instead.
Cheesecake freezes really well. To freeze, complete steps 1-8 and transfer your cooled cheesecake (without topping) to a freezer-safe plate or cardboard round. Wrap well with saran wrap and freeze for up to one month. When you're ready to enjoy, allow your cheesecake to thaw overnight in the refrigerator.
---
Some of the links above are affiliate links, which may earn Macrostax a commission at no extra cost to you.