Roasted sourdough breadcrumbs and fall vegetables are tossed in a simple maple vinaigrette for the ultimate side salad. Perfect for the holidays, yet easy enough for a weekday night, this panzanella salad can be easily adjusted based on what you have on hand.
Servings: 6
Serving Size: 1 generous cup (92g)
Prep Time: 15 minutes
Total Time: 45 minutes
Nutrition Facts: 175 calories / 24.5g carbs / 4g protein / 7g fat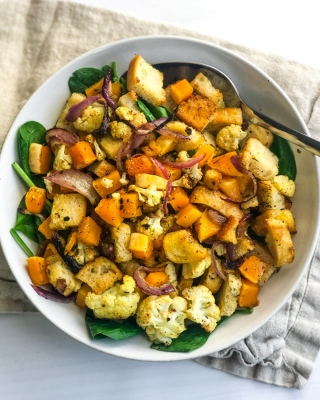 Ingredients:
2 cups (319g) peeled and cubed butternut squash
2 cups (214g) cauliflower florets
½ large (95g) red onion, sliced thin
¾ teaspoon salt (divided)
½ teaspoon ground black pepper (divided)
2 tablespoons (27g) olive oil (divided)
6 ounces (168g) crusty Izzio sourdough bread (cubed)
2 cloves (6g) garlic (minced)
1 teaspoon Italian seasoning
2 cups (60g) baby spinach
Dressing:
1 tablespoon extra-virgin olive oil
2 tablespoons (30g) apple cider vinegar
½ tablespoon (10g) pure maple syrup
½ teaspoon Dijon mustard
Salt and pepper, to taste
Instructions:
Preheat the oven to 400F and line two baking sheets with parchment paper. Set aside.
In a large mixing bowl, combine the cubed butternut squash, cauliflower florets, sliced red onion, ½ teaspoon of salt, ¼ teaspoon of pepper, and 1 tablespoon of olive oil. Toss well to combine. Pour the vegetable mixture onto one of the prepared baking sheets, spreading out the vegetables in an even layer. Set aside.
In the same mixing bowl, add the cubed sourdough bread, minced garlic, Italian seasoning, remaining ¼ teaspoon of salt and pepper each, and remaining 1 tablespoon of olive oil. Toss well to combine, and then transfer the coated bread cubes to the second baking sheet.
Place both baking sheets in the oven. Cook the bread cubes for 15 to 20 minutes, tossing every 5 minutes, until lightly browned and crisp. Remove once cooked. For the vegetables, cook for 25 to 30 minutes, or until the vegetables are tender. Remove from the oven.
Place spinach on a large serving platter or in a large bowl. Add the roasted bread and vegetables on top. Set aside.
In a small bowl, whisk together the 2 teaspoons of extra virgin olive oil, apple cider vinegar, pure maple syrup, and Dijon mustard. Add salt and pepper to taste.
Pour the prepared dressing over the salad and toss well to combine. Serve immediately.
Notes:
The smaller you cube your butternut squash, the faster it will cook.
This salad is best served immediately. To make it ahead of time, roast the vegetables and bread cubes, but keep them separate. Assemble the salad just before serving to avoid the bread from getting soggy.
Leftovers can be stored in an airtight container in the fridge for up to 4 days. However, the bread will soften.
You can use another crusty bread instead of sourdough, such as a baguette or ciabatta bread. Note that macros will vary.
To make this gluten-free, use a loaf of gluten-free bread.
For an extra fall touch, add diced apple to the salad along with the spinach. Note that macros will vary.
You can easily substitute other vegetables in this recipe. For example, sweet potatoes or acorn squash would work well in place of the butternut squash, and brussels sprouts, broccoli, or carrots can stand in for the cauliflower. Note that macros will vary.
---
Some of the links above are affiliate links, which may earn Macrostax a commission at no extra cost to you.