We're not sure what the best part about this chicken skillet is: the fact that it comes together so easily for a perfect weeknight dinner, or the fact that it's bursting with warm, herb-infused flavors.
Makes: 5 servings
Serving Size: 310 grams
Prep Time: 15 minutes
Total Time: 60 minutes
Nutrition Facts: 402 calories / 32g carbs / 24g protein / 10g fat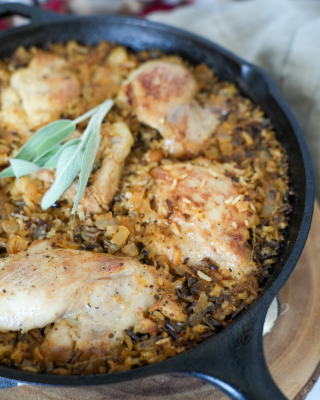 Ingredients:
5 (448g) boneless, skinless chicken thighs
2 tablespoons (27g) olive oil
2 tablespoons lemon juice
1 tablespoon fresh lemon zest
2 teaspoons Dijon mustard
1 ½ teaspoons salt (divided)
1 teaspoon ground pepper (divided)
1 medium (94g) yellow onion (diced)
3 garlic cloves (minced)
1 teaspoon garlic powder
1 teaspoon smoked paprika
1 teaspoon dried oregano
1-2 sprigs fresh thyme
4-5 fresh sage leaves
1 cup dry (180g) wild rice
2 cups (480g) chicken broth
Instructions:
Combine olive oil, lemon juice, lemon zest, Dijon mustard, 1 teaspoon of salt, ½ teaspoon pepper together in a shallow dish or gallon freezer bag. Add chicken thighs and marinate in the refrigerator for at least 2 hours.
When you're ready to cook, preheat the oven to 350 degrees F.
Heat a large ovenproof skillet on medium high heat on the stove. Add chicken thighs and cook until golden brown. Flip over and cook the other side until golden brown.
Remove chicken from the heat and set aside.
Add onion, garlic, garlic powder, paprika, oregano, salt, and pepper and saute until onion is translucent.
Add the rice and chicken stock to the skillet and bring to a simmer.
Arrange chicken thighs on top of the rice and place thyme and sage leaves on top. Cover the skillet and bake in the oven for 40 minutes.
Let cool for 5 minutes. Fluff rice with a fork and divide into 5 portions to serve.