Sheet pan meals make weeknight prep and cleanup a breeze. This version puts the spotlight on heart-healthy Mediterranean ingredients. Big flavors and a beautiful presentation will make it a favorite in busy households.
Servings: 4
Serving Size: 4 ounces chicken breast, 4 ounces potatoes, 1 cup vegetables
Prep Time: 15 minutes
Total Time: 40 minutes
Nutrition Facts: 327 calories / 26g carbs / 30.5g protein / 11.5g fat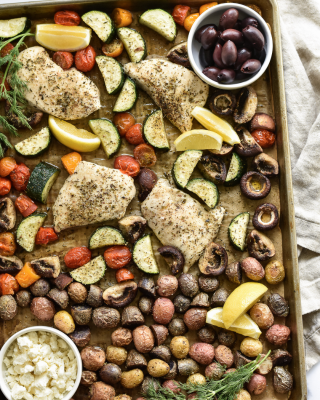 Ingredients:
1 pound (461g) baby potatoes
3 tablespoons (41g) olive oil (divided)
½ teaspoon salt (divided)
¼ teaspoon ground black pepper (divided)
1 pound (454g) skinless, boneless chicken breast
1 cup (149g) grape tomatoes
1 medium zucchini (171g) (halved and sliced into half moons)
8 ounces (227g) baby bella mushrooms (stems removed)
1 teaspoon garlic powder
1 teaspoon Italian seasoning
Instructions:
Preheat the oven to 425 degrees.
Place potatoes in a large bowl and toss with 1 tablespoon of the olive oil. Season with ¼ teaspoon salt and ⅛ teaspoon black pepper and transfer to the sheet pan. Set the used bowl aside for use later. Place the pan in the oven and bake for 20 minutes.
Meanwhile, place chicken breast in a large zip top bag and pound to half inch thickness. Trim fat, and cut into four equal portions. Rub the chicken with 1 tablespoon of the olive oil.
Add tomatoes, zucchini and mushrooms to the same bowl used for the potatoes and toss with the remaining 1 tablespoon of olive oil. Once potatoes are done cooking, push them to one side of the sheet pan. Add vegetables to the other side and nestle in chicken breasts in a single layer. Season vegetables and chicken with the remaining ¼ teaspoon salt and ⅛ teaspoon black pepper. Season the entire pan with the garlic powder and Italian seasoning.
Bake for 18 minutes or until chicken reaches an internal temperature of 165 degrees and potatoes are fork tender.
Optional garnishes: lemon wedges, pitted Kalamata olives, feta cheese crumbles, or fresh herbs like parsley, mint or dill (macros will vary).
Notes:
Macros for a single serving based upon 1 piece of chicken, a quarter serving of the potatoes, and approximately 1 cup of vegetables.
If baby potatoes are not available, chop larger potatoes into half-inch pieces.
Vegetables should be similar in size, quarter or half any extra large tomatoes or mushrooms.
Consider using a coarse salt, if desired, as this type of salt is easier to see when sprinkling on chicken and veggies and can offer a mellower, more consistent flavor. If using, substitute twice the amount of coarse salt for regular table salt.