Looking for a quick and easy weekday meal that's as good-for-you as it is for the planet? These vegan falafels will take you straight to the Mediterranean and are filled with just a handful of ingredients making them easier than you'd expect. Baked, not fried, they are also a lighter version of the traditional falafel.
Servings: 4
Serving Size: 3 falafel/56g
Prep Time: 5 minutes
Total Time: 20 minutes
Nutrition Facts: 114 calories / 21g carbs / 7.5g protein / 1.5g fat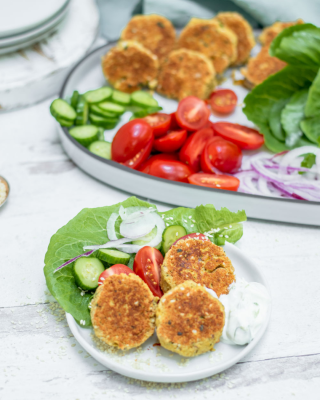 Ingredients:
15-ounce can chickpeas (drained and rinsed)
½ cup (64g) red onion (roughly chopped)
2 garlic cloves (8g)
¼ cup (6g) parsley
2 teaspoons (6g) sesame seeds
¼ teaspoon salt
Instructions:
Preheat the oven to 375 degrees.
Spray a sheet pan with a thin coat of nonstick cooking spray.
Place chickpeas, red onion, garlic, parsley, sesame seeds, and salt in a food processor or high speed blender. Blend until chickpeas are finely chopped and all ingredients are well mixed. Scrape down sides periodically so that everything is evenly mixed.
Scoop a heaping tablespoon of the falafel mixture out and form a ball with your hands, then flatten. Repeat until you have 12 balls.
Spray tops of falafel with another light coat of pan spray (this will help them get browned and slightly crispy).
Bake for 20 minutes, carefully flipping halfway through.
Notes:
Falafel can be enjoyed as a snack or sandwich with fresh tomatoes, cucumber, lettuce, and Greek tzatziki sauce (macros not included). They can also be added to any salad for an extra punch of protein and carbs.
Store leftovers in the fridge for 2-3 days.
---
Some of the links above are affiliate links, which may earn Macrostax a commission at no extra cost to you.