Love Mexican food so much you wish you could eat it for breakfast? This easy, one-person huevos rancheros dish has the perfect Mexican flavor to start your day. The best part is that you can easily repeat it all week long, freshly cooked!
Servings: 1 serving
Serving Size: 1 serving (227g)
Prep Time: 5 minutes
Total Time: 15 minutes
Nutrition Facts:  352 calories / 39.5g carbs / 21g protein / 13g fat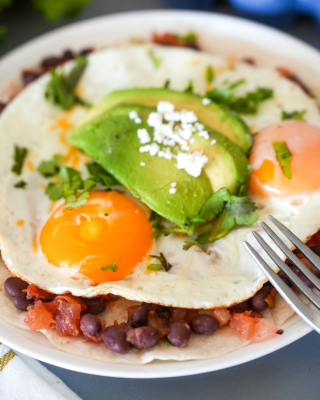 Ingredients:
1 medium (49g) "Mission" soft taco flour tortilla
½ cup (35g) pico de gallo
¼ cup (43g) canned black beans (drained and rinsed)
½ teaspoon salt
2 large (100g) eggs
Instructions:
In a pan over medium heat, warm each side of the tortilla for 1-2 minutes until puffed up and slightly browned. You can also do this directly on the burner if you have a gas stove. Set tortilla aside.
Saute the pico de gallo for 3-5 minutes until warm and veggies have softened.
Add black beans and salt and saute for an additional 1-2 minutes. Drain any extra liquid and place on top of the tortilla.
Next, use nonstick cooking spray and fry eggs in the pan. You can also scramble if preferred!
Place eggs on top of veggie and bean mixture.
Top with cotija cheese, sliced avocado, extra pico, or cilantro on top and enjoy! Macros not included.
Notes
Use any variety of tortilla but know that macros will vary with size and brand.