Everything you could want in one delicious burrito-sized bundle! Make breakfast for the family or stock the freezer with a handy grab-and-go breakfast option.
Servings: 6
Serving Size: 1 burrito (286g)
Prep Time: 15 minutes
Total Time: 35 minutes
Nutrition Facts:
445 calories / 57g carbs / 23g protein / 13.5g fat (burrito)
482 calories / 59.5g carbs / 25.5g protein / 15.5g fat (Burrito + 2 tablespoons sauce)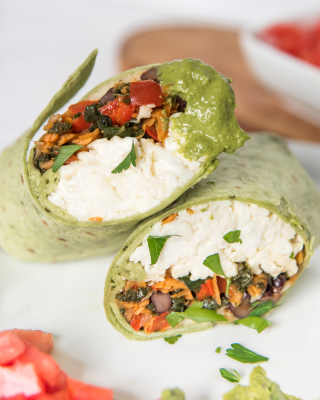 Ingredients:
2 teaspoons (6g) olive oil
1 (120g) onion (diced)
1 (114g) bell pepper (diced)
2 cloves garlic (minced)
1 ½ cups (200g) sweet potato (peeled and grated)
3 cups (155g) loosely packed raw kale (washed and chopped)
1, 15-ounce can (255g) black beans (rinsed and drained)
4 teaspoons reduced sodium taco seasoning
2 cups (452g) liquid egg whites
6 (420g) 'Mission' garden spinach herb wrap
4-ounces (113g) sharp white cheddar (grated)
¾ cup green goddess dip, optional, macros not included (see notes)
Instructions:
Heat 2 teaspoons of oil in a large nonstick skillet over medium-high heat. Add the onions, bell peppers, and garlic and sauté until the peppers have softened and the onions are translucent, about 3-4 minutes. Stir in the grated sweet potato and arrange so the contents of the pan are in an even layer. Add 1⁄4 cup of water and cover with a lid. After about 3 minutes, lift the lid to give the sweet potatoes a quick stir. Toss the kale on top, replace the lid, and cook for another 3 minutes so the potatoes are soft and the kale is slightly wilted. Stir in the black beans and taco seasoning, and cook until the mixture is heated throughout, about 2 more minutes. Remove from heat and set aside.
Spray a clean pan with nonstick cooking spray and scramble egg whites over medium heat, stirring often, until the egg whites are set and no liquid remains. Remove from heat and set aside.
To assemble the burritos, lay the tortilla on a flat, clean surface. Spoon 1/6th of the sweet potato mixture in a straight line down the center of the wrap, leaving an inch or two of free space on the top and bottom. Do the same thing with the egg whites and cheese, layering them on top of the sweet potato. There should be a line of filling down the middle of your tortilla that is no more than a few inches wide. Fold the top and bottom of the tortilla inwards, over the filling (this will prevent the contents from spilling out the sides), then, roll the burrito over itself, tucking inwards as you go. Repeat with the remaining tortillas and filling.
Serve burritos warm, accompanied with green goddess sauce for dipping. Allow any extras to cool completely before wrapping tightly in tin foil. Burritos will keep up to 5 days in the fridge or 3 months in the freezer.
Notes:
To reheat from frozen, simply place the frozen tinfoil covered burrito directly into a 350° oven for 30-40 minutes. Alternatively, thaw in the refrigerator overnight, remove foil, and reheat in the microwave for a few minutes.
Green goddess sauce is not intended to be frozen, but it is incredibly versatile. Use it on salads, grain bowls, and roasted veggies, spread it on sandwiches, or serve it as a dip!