Shake things up with this non-traditional holiday dressing featuring all of your favorite southwest flavors. It's smoky, spicy and just a touch sweet from the corn.
Servings: 12
Serving Size: 72g (about ⅓ cup)
Prep Time: 20 minutes
Total Time: 90 minutes
Nutrition Facts: 151 calories / 20.5g carbs / 4g protein / 6g fat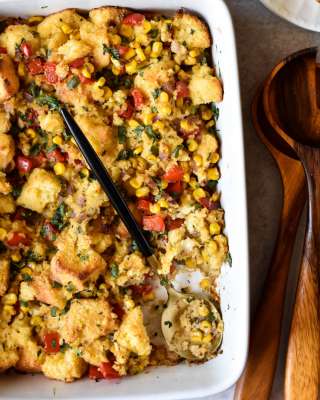 Ingredients:
15.5 ounces (439g) prepared "Krusteaz" southern cornbread mix
1 tablespoon olive oil
½ medium (83g) red onion (finely diced)
2 cloves (6g) garlic (minced)
1 (128g) red bell pepper (diced)
1 (26g) jalapeño (seeded and minced)
1 cup (165g) frozen corn
½ teaspoon ground cumin
½ teaspoon smoked paprika
½ teaspoon salt
¼ teaspoon dried oregano
¼ teaspoon ground black pepper
1 cup (240g) vegetable broth
1 egg (50g)
¼ (6g) bunch cilantro (chopped and divided)
Optional garnishes: extra cilantro sprigs
Instructions:
Prepare the "Krusteaz" southern cornbread mix per the box instructions using 1 cup nonfat milk, 2 large eggs, and ⅓ cup butter. Bake and set aside to cool. The recipe will make more than needed for the cornbread stuffing.
Preheat the oven to 300 degrees F. Grease a large (9×13-inch) baking dish with nonstick cooking spray and set aside.
Dice cornbread into 1-inch cubes, weighing out 439g, before spreading on a baking sheet. Toast in the oven until dry (about 10-12 minutes). Remove and let cool. Increase the oven temperature to 375 degrees F.
Meanwhile, heat olive oil in a skillet over medium heat. Add onion and cook until translucent, stirring often (about 2-3 minutes). Add garlic and cook until fragrant, about one minute.
Add bell pepper, jalapeño, corn and seasonings and cook until softened (about 5 minutes), stirring occasionally to prevent burning. Remove from heat.
In a small bowl or measuring cup, whisk together broth and egg. To a large bowl, add: (cooled) cornbread cubes, vegetables, and half of the cilantro. Pour broth/egg mixture over the cornbread and veggies and mix gently with a spatula. Transfer to the baking dish and cover with foil.
Bake for 30 minutes, then remove the foil and bake for 15 more minutes until golden brown. Top with remaining cilantro before serving.
Notes:
To save time, use frozen fajita mixed vegetables (peppers and onions) in place of fresh.
Be sure to dry out the cornbread before using. If it's very fresh/moist, it could lead to a mushy texture.
You can use any brand or variety of prepared cornbread for this recipe, however macros will vary slightly.
Use a frozen fire-roasted corn for extra flavor!