Strawberry Avocado Salad is the perfect companion for your next summer barbeque! It's bursting with sweet berries, avocado, and crumbled goat cheese and tossed in a light poppyseed dressing – basically everything you need in life. Serve as a vegetarian entree, topped with grilled chicken, or as a side!
Servings: 4
Serving Size: about 2 ½ cups (195g)
Prep Time: 5 minutes
Nutrition Facts: 162 calories / 18.5g carbs / 5g protein / 8.5g fat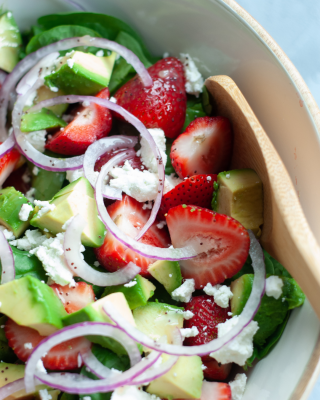 Ingredients:
6 cups (180g) baby spinach
2 cups (332g) sliced strawberries
1 medium (136g) avocado (diced)
¼ small red onion (15g) (thinly sliced)
2 oz (57g) crumbled goat cheese
¼ cup (66g) "Maple Grove Farms of Vermont" fat free poppyseed dressing
Instructions:
Top the spinach with the strawberries, avocado, onion, and goat cheese. Drizzle with poppyseed dressing. Enjoy as a side or serve with a cooked protein of your choice!
Notes:
If you make this salad ahead of time, reserve the dressing and add just before serving.
For a delicious variation try substituting fresh blueberries for the strawberries. The macros for 1 serving are: 23g carbs / 5g protein / 8.5g fat / 178 calories.