We could all use a little 'super' when we're on the go! Make your own protein bars for those busy days when you need a boost. Nut-free, gluten-free, and vegan, these protein bars are made to be enjoyed by everyone!
Servings: 8
Serving Size: 1 bar (57g)
Prep Time: 15 minutes
Total Time: 30 minutes
Nutrition Facts: 214 calories / 20.5g carbs / 11.5g protein / 9.5g fat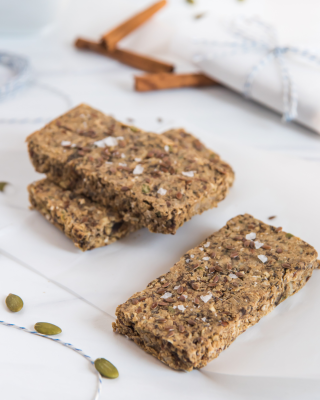 Ingredients:
4 (80g) medjool dates (pitted)
1 cup (80g) old-fashioned oats
½ cup (122g) unsweetened applesauce
2 scoops (72g) "Optimum Nutrition" gold standard vanilla 100% plant protein
¼ cup (32g) raw sunflower seeds
¼ cup (30g) raw pepitas
2 tablespoons (28g) tahini
2 tablespoons (21g) flax seed
2 tablespoons (24g) chia seed
¼ teaspoon salt
Instructions:
Place dates in a small heat-safe bowl. Cover with boiling water and soak for 10 minutes.
Preheat the oven to 325 degrees F. Spray and line a 8"x8" baking dish with parchment paper, leaving a 1-inch overhang on each side.
Place all ingredients, including the soaked dates, into the bowl of a food processor and pulse until it forms a coarse, crumbly mixture. Transfer to the prepared baking dish and press into a single, flat layer, making sure to get all the way into the corners.
Bake for 12-15 minutes, or until lightly golden brown. Allow bars to cool for 10 minutes before lifting from the pan using the side of the parchment paper and place on a cooling rack to finish cooling completely.
Once bars are completely cool, slice into 8 pieces. Wrap each bar tightly in plastic wrap and place in an airtight container. Bars will stay good at room temperature for up to 3 days but are best kept in the refrigerator (up to 3 weeks).
Notes:
Feel free to replace the tahini with a nut butter if that's all you have on hand and nut allergies are not a concern.
Staying home today? Try crumbling the bar over Greek yogurt and fresh fruit for a super seed breakfast bowl!