This superfood salad is packed with antioxidants and vitamins from the beets, kale, cabbage, and pepitas. All tossed with an apple-cider vinegar dressing, it's tart yet sweet, crispy, and crunchy, and makes the perfect base or side to any protein for a nutrition-packed meal.
Servings: 4
Serving Size: 2 heaping cups/134g
Cooked Weight: 536g
Prep Time: 10 minutes
Total Time: 10 minutes
Nutrition Facts: 153 calories / 13.5g carbs / 2.5g protein / 9.5g fat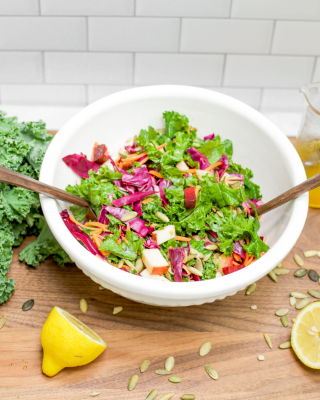 Ingredients:
4 cups (80g) chopped kale (stems removed)
1 tablespoon lemon juice
2 cups (130g) shredded red cabbage
1 cup (60g) shredded carrots
1 cup (100g) chopped apple
1 cup (120g) diced, cooked beets
3 tablespoons (22g) raw pumpkin seeds
2 tablespoons olive oil
2 tablespoons apple cider vinegar
1 teaspoon maple syrup
½ teaspoon salt
Instructions:
Add the kale to a large bowl along with the lemon juice. Massage with your hands until the kale is about half the original volume. This breaks down some of the fiber and toughness of kale.
Add the cabbage, carrots, apple, beets, and pumpkin seeds to the bowl with the kale.
Whisk together the olive oil, vinegar, honey, and salt. Drizzle the dressing over the salad and toss to combine.
Notes:
This salad is hearty and can be stored, dressed, in the refrigerator for up to 2 days. You can also make the salad ahead and then dress it right before serving.
Honey can be used in place of maple syrup, if desired.