These lightened up Swedish meatballs are comforting and satisfying, and make a great easy Sunday dinner or hands-off party food. Made with lean beef and turkey and sour cream, it's a lighter version of the traditional, but still packed with all the warming, creamy flavors you crave.
Servings: 8
Serving Size: 5 mini meatballs (157g)
Prep Time: 20 minutes
Total Time: 2 hours 20 minutes
Nutrition Facts: 231 calories / 10g carbs / 28g protein / 8.5g fat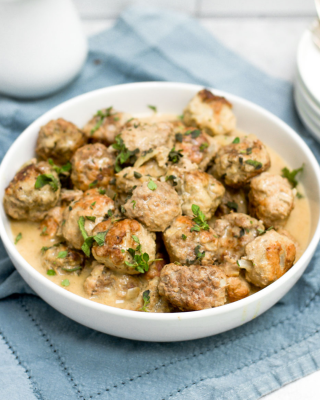 Ingredients:
1 pound (453g) 93% lean ground beef
1 pound (453g) 97% lean ground turkey
1 ¼ cups (152g) onion (finely diced)
7 tablespoons (52g) oat flour (divided)
1 large (50g) egg
2 garlic cloves (minced)
1 teaspoon nutmeg
1 teaspoon allspice
½ teaspoon ground ginger
½ teaspoon salt
1 tablespoon olive oil
2 cups (490g) low-sodium beef broth
½ cup (128g) fat-free sour cream
Optional: fresh chopped thyme for garnish
Instructions:
In a large mixing bowl gently combine the ground beef, ground turkey, onion, 5 tablespoons of oat flour, egg, garlic, nutmeg, allspice, ground ginger, and salt. It's best to use your hands for this to really blend all of the ingredients.
Portion approximately 2 tablespoons of the mixture per meatball and roll into balls. This should make 40 meatballs.
Heat the olive oil in a heavy bottomed cast-iron pan or dutch oven. Once hot, gently add meatballs to the pan and sear on each side for 2-3 minutes, until browned. Don't overcrowd the pan. You'll likely need to do this in several batches. When the meatballs are browned, remove from the pan and put in your slow cooker pot. Repeat until all meatballs are added to the slow cooker.
Add the broth and remaining 2 tablespoons of oat flour to the pan and scrape up the brown bits and whisk the flour and broth together. Bring to a simmer and let reduce and thicken for about 3-4 minutes, stirring frequently. Once it's slightly thickened, pour the sauce over the meatballs and turn on the slow cooker to high for 2-3 hours (or low for 4-5). When the meatballs are done, add the sour cream and gently stir to mix in.
You can keep the meatballs on the "warm" setting of your slow cooker until ready to serve. Serve warm with optional fresh chopped thyme.
Notes:
Store leftovers in the fridge for up to 3 days and the freezer for up to 3 months.
If prepared oat flour is unavailable, place rolled oats or quick oats in a food processor and blend until a fine flour is created.
For reference, a single meatball weighs approximately 32g.