These colorful layered Taco Jar Salads are "nacho" average meal prep lunch! A Greek yogurt-based cilantro lime dressing is topped with all of our favorite taco salad ingredients. And the best part? You can prep these days in advance and the lettuce stays crisp!
Servings: 6
Serving Size: 1 jar salad (355g)
Prep Time: 15 minutes
Total Time: 15 minutes
Nutrition Facts: 354 calories / 29g carbs / 33.5g protein / 12g fat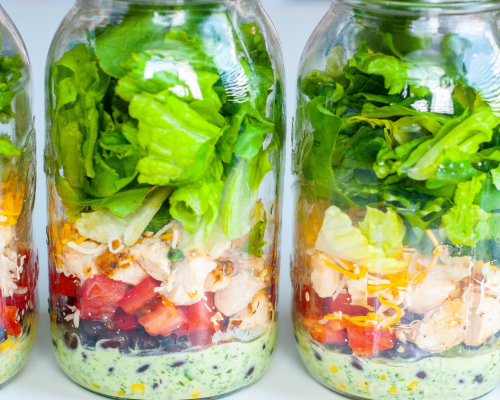 Ingredients:
1 can (425g) black beans (rinsed and drained)
1 ½ cups (201g) corn (frozen, fresh, or canned)
2 cups (360g) chopped tomato
15 oz cooked chicken breast (chopped or shredded)
¾ cup (84g) "Kraft" Mexican style shredded cheese
9 cups (423g) chopped Romaine lettuce
Dressing:
½ cup (113g) "Chobani" plain nonfat Greek yogurt
½ bunch (16g) cilantro
3 tablespoons (45g) lime juice
2 tablespoons (27g) olive oil
1 tablespoons (21g) honey
¼ teaspoon salt
Instructions:
Blend the dressing ingredients together in food processor until well combined. Set aside.
Set out 6 large Mason jars. Divide the dressing evenly between the 6 jars (about 2-3 tablespoons per jar).
Next, layer ¼ cup of corn and ¼ cup of black beans. Top with the chopped tomato (⅓ cup per jar), chicken (2 ½ oz per jar) and shredded cheese (2 tablespoons per jar).
End with the chopped Romaine lettuce (1 ½ cups per jar), which will be the top layer. Feel free to add as much or little lettuce as you prefer, since it's a very low macro ingredient! Garnish with a sprig of fresh cilantro if desired.
Store in the refrigerator for up to 3-5 days. When ready to eat, shake the jar well to disperse the dressing throughout the rest of the salad. Enjoy straight out of the jar or on a plate.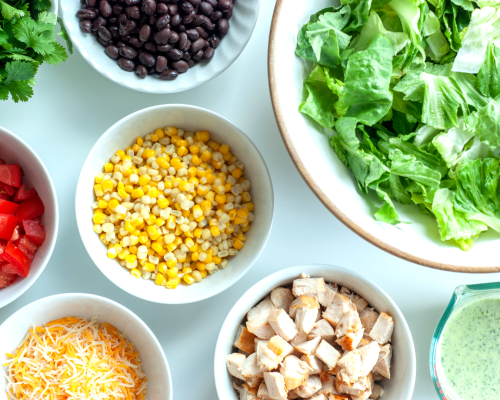 Notes:
Time saver tip: use rotisserie chicken breast or buy pre-grilled chicken breasts from the deli department of your grocery store.
You can also assemble these salads in glass or plastic food prep containers – just make sure to put the dressing in first and the lettuce in last.