This lightened up potato salad recipe has all the flavor and none of the mayo! Sliced baby potatoes are tossed with a tangy Dijon vinaigrette and sliced green onions – simple and delicious.
Servings: 4
Prep Time: 5 minutes
Total Time: 20 minutes
Nutrition Facts: 129 calories / 21.5g carbs / 3g protein / 3.5g fat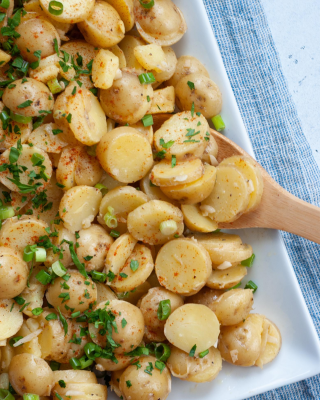 Ingredients:
1 lb (453g) baby potatoes (any color)
⅓ cup (34g) diced green onion
2 tablespoons (33g) Dijon mustard
2 tablespoons (30g) red wine vinegar
1 tablespoon (13g) olive oil
1 clove garlic (minced)
¼ teaspoon salt
¼ teaspoon ground pepper
Optional garnishes: ⅛ teaspoon (generous pinch) paprika, ¼ cup chopped parsley
Instructions:
Place the potatoes, skin on, in a large pot of water. Bring to a boil, reduce the heat to medium-low, and cook for 15-20 minutes or until the potatoes are tender and easily pierced with a fork. The cooking time may vary depending on the size of your potatoes. Strain and set aside to cool.
Meanwhile, prepare the dressing by whisking together the remaining ingredients (except for garnishes, if using) in a large bowl.
When the potatoes are cool enough to handle, slice thinly or dice them into bite sized pieces. Add to the bowl with the dressing ingredients and toss to coat.
Season to taste with additional salt and pepper. If you prefer a tangier salad, sprinkle with extra red wine vinegar to taste. Garnish with parsley or paprika if desired (these will not impact the macros).
Serve room temperature or chilled. Store leftovers in an airtight container in the refrigerator for up to 5 days.
Notes:
You can use any type of potato in this recipe. If you are using a regular size potato (not baby potato), cut into half or quarters before boiling to cut down on cooking time.