These chicken satay skewers with peanut dipping sauce make for a fun appetizer or easy weeknight dinner paired with rice and veggies. They're packed with your favorite Asian-style flavors and feel like something you'd get at a restaurant — but much lighter.
Servings: 4
Serving Size: 2 satay skewers (2.5 oz cooked chicken), 3 tablespoons (60g) sauce, ½ cup (79g) white rice
Prep Time: 10 minutes
Total Time: 30 minutes
Nutrition Facts: 334 calories / 29.5g carbs / 33.5g protein / 9g fat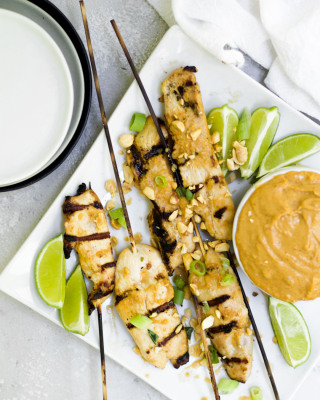 Ingredients:
Chicken:
16 ounces/ 1 pound (454g) skinless, boneless chicken breast
2 tablespoons soy sauce
2 tablespoons fresh lime juice
1 tablespoon fish sauce
2 garlic cloves (minced)
1 teaspoon Sriracha sauce
1 teaspoon honey
1 teaspoon grated fresh ginger
Sliced green onions and chopped peanuts (optional) for serving
Peanut sauce:
½ cup (120g) chicken broth
¼ cup (64g) peanut butter
2 tablespoons fresh lime juice
1 tablespoon soy sauce
2 teaspoons Sriracha sauce
1 teaspoon grated fresh ginger
Instructions:
Begin by slicing the chicken breast into eight, equal, 1-inch pieces
Make the chicken marinade: mix together the soy sauce, lime juice, fish sauce, garlic, Sriracha, honey, and fresh ginger. Pour over the chicken in a bowl or container and cover and put in the fridge for 10 minutes to marinate (this can be done up to 24 hours in advance).
Heat the grill to medium heat. Please see notes for stovetop/grill pan directions.
While the chicken is marinating, make the peanut sauce. Whisk together all ingredients until well combined and a creamy dipping sauce is formed. If the sauce seems too thick, thin by adding water, 1 tablespoon at a time, until the desired consistency is reached. Thinning the sauce will change the weight of the serving size, but macros will remain the same when divided into 4 equal servings.
Thread the chicken on skewers, if desired. Place on grill and cook for 3-4 minutes per side, basting with any leftover marinade, until chicken has reached an internal temperature of 165 degrees.
Serve with peanut dipping sauce and topped with optional sliced green onions and chopped peanuts for garnish (macros will vary).
Notes:
No grill? Use a grill pan or saute pan on a stovetop instead. Cook chicken over medium-high heat for 4-5 minutes per side, basting with leftover marinade, until cooked through and internal temperature reaches 165 degrees.
Create dinner out of this dish by adding steamed vegetables and rice (macros not included).