Each bite of these lightly-sweetened tiramisu oats is infused with a hint of coffee. This oatmeal looks decadent but is surprisingly easy to make using cold brew coffee and a handful of pantry staples.
Servings: 1 serving
Serving Size: 1 jar (443g)
Prep Time: 5 minutes
Total Time: 4 hours or overnight
Nutrition Facts: 423 calories / 55g carbs / 22g protein / 13.5g fat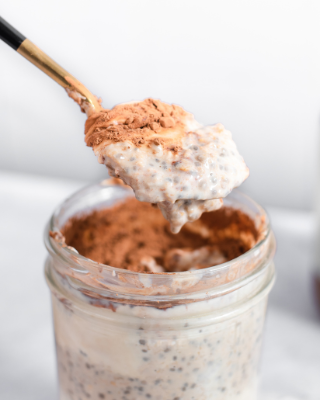 Ingredients:
½ cup (40g) dry old-fashioned rolled oats
4 ounces (120g) unsweetened, strong, cold-brew, coffee
4 ounces (122g) 2% milk
1 tablespoon (12g) chia seeds
1 container (150g) "Chobani" coffee & cream Greek yogurt
Cocoa powder to garnish
Instructions:
In a medium container, whisk together the rolled oats, cold brew, milk, and chia seeds. Cover with a lid. Refrigerate for 4 hours or overnight.
In a pint-sized jar or cup, make the tiramisu layers. Start with the oatmeal, then layer with half of the Greek yogurt, the remaining oatmeal, then the remaining yogurt. Top with a layer of cocoa powder.
Enjoy chilled or hot. To heat, warm up on the stovetop over medium heat or in the microwave.
Notes
The tiramisu layers can be created before chilling the overnight oats but the layers will be less defined.
These oats are only lightly sweetened. Add honey or use a sweetened cold brew for a sweeter result. Macros will vary.
Cold brew coffee can be purchased in most grocery store refrigerated beverage aisles. Hot brewed coffee can be used in place of cold brew. Let the coffee cool before adding it to the overnight oats.
To make dairy-free, use an equal amount of non-dairy milk and vanilla soy yogurt. Macros will vary with dairy-free substitutes.