Looking for a quick, easy, high protein snack to fuel you through this busy holiday season? Give our Trail Mix Granola Bars a try! They're naturally sweetened and full of good-for-you ingredients like oats, almonds, and dried cranberries. It's hard to go wrong with 6 grams of protein per bar either! Stash a few in your bag, car, or desk for a healthy snack when you need it.
Servings: 12
Serving Size: 1 bar
Prep Time: 10 minutes
Total Time: 25 minutes
Nutrition Facts: 142 calories / 17g carbs / 6g protein / 6g fat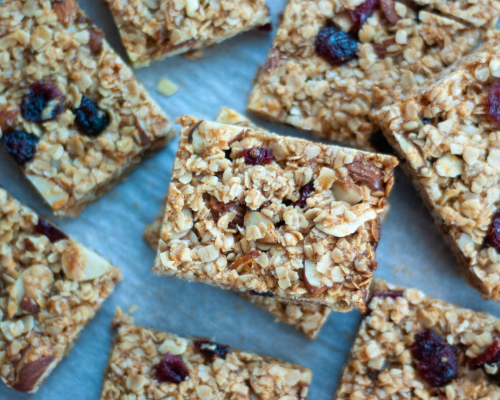 Ingredients:
1 ½ cups quick cooking oats
4 scoops unflavored collagen peptides
¼ cup raw slivered almonds
¼ teaspoon salt
¼ teaspoon cinnamon
3 tablespoons honey
3 tablespoons melted coconut oil
2 tablespoons egg whites
¼ cup dried cranberries
Instructions:
Preheat the oven to 325 degrees. Prepare a 8×8-inch baking dish by lining with parchment paper or foil and spraying lightly with nonstick cooking spray.
Mix the first 5 ingredients (through cinnamon) together in a medium bowl. Add the honey, coconut oil, and egg whites and mix well with a fork or spatula. Stir in the cranberries.
Pour the oat mixture into the prepared baking dish and press down firmly to create a packed, even layer. We find that using a silicone spatula or spoon is easiest!
Bake for 13-14 minutes or until lightly browned. Remove from the oven and let the pan cool completely on a cooling rack.
When the bars are room temperature, remove the bars from the pan by using the parchment paper or foil overhand. Place on a cutting board and slice into 12 squares.
The bars keep well for up to 5 days at room temperature, up to a week in the refrigerator, or up to 3 months in the freezer.
Notes:
We used "Vital" brand unflavored collagen peptides but all brands of unflavored collagen peptides should have identical macros.
---
Some of the links above are affiliate links, which may earn Macrostax a commission at no extra cost to you.