An ultimate lightened up comfort food, this tuna noodle casserole is the perfect one dish meal when you want something cozy that won't weigh you down. It's packed with equal parts nutrition and taste for an easy meal that is sure to bring you back to your childhood.
Servings: 6
Serving Size: 1.5 cups (223g)
Prep Time: 15 minutes
Total Time: 35 minutes
Nutrition Facts: 318 calories / 39g carbs / 22g protein / 8g fat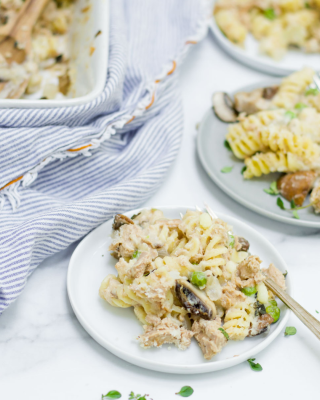 Ingredients:
8-ounces (224g) dry rotini pasta
2 tablespoons butter (divided)
1 cup (121g) onion (diced)
5-ounces (142g) baby Bella mushrooms (sliced)
½ cup (80g) frozen peas
1 teaspoon fresh oregano (chopped)
1 teaspoon fresh thyme (chopped)
1 ½ cups (368g) nonfat milk
½ cup (57g) grated Parmesan cheese (divided)
2 tablespoons (15g) flour
2, 5-ounce cans drained albacore tuna in water (broken into smaller pieces)
¼ cup (15g) panko breadcrumbs
Instructions:
Preheat the oven to 350 degrees.
Cook pasta according to package directions. When done, set aside and save the pan for making the roux later in this recipe.
While pasta is cooking, heat 1 tablespoon butter in a medium saute pan. Add onion and mushrooms and saute for 5 minutes, until they begin to soften. Add in peas , fresh oregano, and thyme. Cook for another minute, just until peas are no longer frozen. Set aside.
In the pot used for the pasta, heat the remaining tablespoon of butter. Add milk and flour and whisk together over low heat until flour is well blended into milk. Remove pot from heat and stir in all of the Parmesan except 1 tablespoon (reserve for the topping). Add pasta, vegetables, and tuna back into the pot and mix together.
Pour pasta mixture into an 8×8 baking dish. Sprinkle remaining tablespoon of Parmesan cheese and panko breadcrumbs evenly over the top.
Bake for 20 minutes. Serve with additional garnish of fresh thyme (if desired).
Notes:
Store leftovers in the fridge for 2-3 days.