Ever wanted to fit an entire Thanksgiving dinner into a single bite? Us too. Our Turkey Stuffing Meatballs are exactly that – a turkey and stuffing flavor fusion dipped in cranberry sauce. A bite of Thanksgiving! This recipe is a perfect easy appetizer or entree for fall holiday potlucks.
Servings: 4
Serving Size: 5 meatballs
Prep Time: 15 minutes
Total Time: 30 minutes
Nutrition Facts: 295 calories / 23.5g carbs / 27g protein / 11.5g fat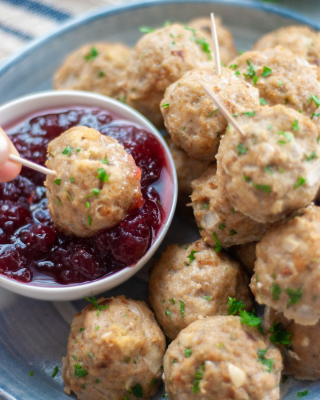 Ingredients:
1 teaspoon olive oil
1 cup finely diced yellow onion
2 garlic cloves (minced)
1 ½ cups "Pepperidge Farm" classic herbed stuffing mix
½ cup fat-free chicken broth
1 1lb 93% lean ground turkey
1 egg (beaten)
½ teaspoon salt
1 teaspoon poultry seasoning
Optional: 3 tablespoons fresh parsley (chopped)
Instructions:
Preheat oven to 400 degrees. Prepare a baking sheet by lining with foil or spraying well with nonstick cooking spray.
Heat the olive oil in a small skillet over medium heat. Add the onion and garlic to the pan and saute for 5-7 minutes, or until the onions are translucent.
In the meantime, in a small bowl cover the stuffing mix with the chicken broth and let sit for 5 minutes. This will rehydrate the stuffing cubes. Mash lightly with a fork to break any large chunks of bread into smaller crumb-size pieces.
In a large bowl lightly mix together the onion mixture, stuffing, ground turkey, egg, salt, poultry seasoning, and parsley (if using). Use a large fork or clean hands to toss the mixture until the ingredients are just combined (do not overmix!).
Form the mix into 20 meatballs (about 3 tablespoons per meatball). You can use a spoon or a cookie dough scoop to measure out the meat. Roll into balls and place on the prepared baking sheet, at least 1-2 inches apart.
Bake for 14-16 minutes or until the turkey is just cooked through and a meat thermometer reads 165 degrees. If you would like to brown the meatballs further, cook them under the broiler for 2-3 minutes.
Serve with a side of cranberry sauce or gravy for dipping (macros not included.)
---
Some of the links above are affiliate links, which may earn Macrostax a commission at no extra cost to you.