Made with lean ground turkey and without canned condensed soups, this tater tot casserole is a healthier twist on a Midwestern classic. Despite being lower in fat, the casserole is still just as easy and flavorful as the traditional. Trust us, it's sure to be a favorite with the whole family.
Servings: 6
Serving Size: 1 ¼ cups (226g)
Prep Time: 20 minutes
Total Time: 1 hour 10 minutes
Nutrition Facts: 355 calories / 33g carbs / 25g protein / 15g fat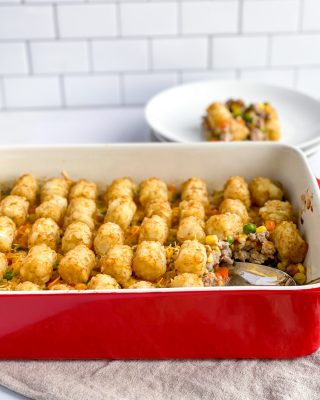 Ingredients:
1/2 tablespoon (7g) unsalted butter
1 medium (43g) shallot (minced)
3 cloves (9g) garlic (minced)
1 pound (453g) 99% lean ground turkey
1/2 teaspoon salt
1/4 teaspoon pepper
2 cups (260g) frozen peas and carrots mix
1 cup (165g) frozen corn
2/3 cup (164g) fat-free milk
2 tablespoons (16g) all purpose flour
1/2 cup (56g) "Kraft" 2% milk shredded sharp cheddar cheese
16-ounce bag (454g) "Cascadian Farm Organic Spud Puppies" (frozen tater tots)
Instructions:
Preheat the oven to 400 degrees F.
In a large skillet over medium heat, add the butter. Once the butter has melted, add the shallot and garlic. Saute for 1-2 minutes, or until the shallot is softened. Add the ground turkey, salt, and pepper. Cook until browned, but not cooked through, about 3-4 minutes.
Add the frozen peas, carrots, and corn to the skillet and cook until thawed, about 3-4 minutes.
In a small bowl, whisk together the milk and flour. Pour the milk and flour mixture into the pan, stirring constantly until the combination starts to thicken, about 5 minutes. Remove from the heat and set aside.
Pour the mixture into a 9×13-inch baking pan. Sprinkle the cheese over the turkey-vegetable mixture and then add the frozen tater tots on top in an even layer.
Bake for 45 minutes, or until the tater tots are cooked through and lightly browned. Serve immediately.
Notes:
Substitute any frozen tater tot variety, as desired. Macros may vary slightly.
If making this for kids who don't like onions, substitute ½ teaspoon of onion powder for the shallot.
If the frozen peas and carrots mix is unavailable, use 1 cup of both frozen peas and carrots.
Store leftovers in an airtight container in the fridge for up to 4 days. Note that the tater tots will get soggy the longer they're stored.