Filled with a creamy tofu ricotta "cheese", spinach, and mushrooms, this vegan lasagna is packed with texture and flavor. Your family will love this meatless twist on a dinner classic.
Servings: 8
Serving Size: 1 slice, ⅛ of lasagna (320g)
Prep Time: 20 minutes
Total Time: 55 minutes
Nutrition Facts: 376 calories / 45g carbs / 23g protein / 12g fat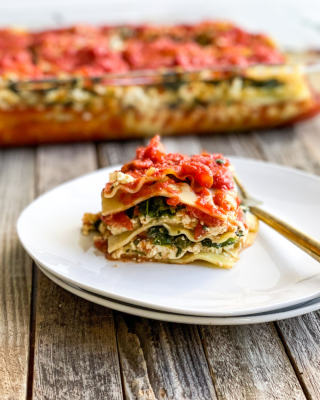 Ingredients:
For the lasagna:
12 uncooked (300g) "Barilla" lasagne noodles
1 tablespoon (14g) olive oil
1 medium (122g) zucchini (chopped)
1 cup (60g) shiitake mushrooms (sliced)
12-ounces (340g) frozen chopped spinach, thawed and squeezed dry
25-ounce jar (709g) "Cucina Antica" tomato basil sauce
For the tofu ricotta:
2 (14 ounce) packages (794g) "Nasoya" firm tofu
7 ounces (196g) "Sabra" roasted garlic hummus
1/2 cup (40g) nutritional yeast
1/4 cup fresh basil (chopped)
1 teaspoon salt
1 teaspoon onion powder
Instructions:
Preheat the oven to 350 degrees F.
Bring a large pot of salted water to a boil. Add the lasagne noodles and cook until al dente, about 8 minutes. Drain and rinse the noodles under cold water, set aside.
Drain and remove tofu from packaging. Remove excess moisture prior to use by placing the tofu on a paper towel lined plate. Set a bowl or baking dish on top of the tofu to press out extra liquid.
In a large skillet over medium heat, add the olive oil. Once the oil is hot, add the chopped zucchini, mushrooms, and a pinch of salt and pepper. Saute for 5 minutes, or until the zucchini is slightly soft. Add the thawed, frozen spinach and saute for 3-4 minutes, or until heated through. Remove the pan from the heat and set aside.
In a separate mixing bowl combine hummus, nutritional yeast, basil, salt, and onion powder. Crumble tofu and add to bowl. Stir well to combine.
Assemble the lasagna by spreading 1/2 cup of pasta sauce across the bottom of a 9 x 13-inch baking dish. Top with 4 noodles to fully cover the sauce. Spread half of the tofu ricotta over the noodles, followed by half of the vegetable mixture. Top with a heaping 1/2 cup of sauce. Repeat layers by adding 4 more noodles, the remaining tofu ricotta and vegetables, and heaping 1/2 cup of sauce. To finish, add the final 4 noodles and pour the remaining sauce on top. Sprinkle with a little additional nutritional yeast, as desired.
Bake for 30-35 minutes, or until the sauce is bubbly and the edges of the noodles on top are lightly browned. Remove from the oven and allow the lasagna to cool for 5-10 minutes before cutting into 8 large or 16 small slices. Serve immediately.
Notes:
Store leftovers in an airtight container in the fridge for up to 5 days or in the freezer for up to 4 months.
It is important to get as much moisture out of the frozen spinach as possible. Place the thawed spinach in a colander in the sink with a paper towel on top. Press out excess moisture by setting something heavy, like a bowl, on top of the paper towel to help remove excess moisture while you prepare the other ingredients.
There is an option to use fresh spinach instead of frozen. A general conversion is that 1-1 1/4 pounds of fresh spinach will cook down to the 12 ounces needed for this recipe. This will also need to be drained after cooking.
White button or baby bella mushrooms can be used in place of the shiitake.
Substitute 1 tablespoon dried basil for the fresh basil, as desired.
To make this lasagna gluten-free, use gluten-free lasagne noodles. Note that the macros will be affected.