This simple, 2-ingredient crust, piled high with veggies and sausage, will leave everyone scrambling for a slice of the pie!
Serving Size: 2 slices (230g)
Prep Time: 20 minutes
Total Time: 40 minutes
Nutrition Facts: 324 calories / 41g carbs / 20g protein / 9g fat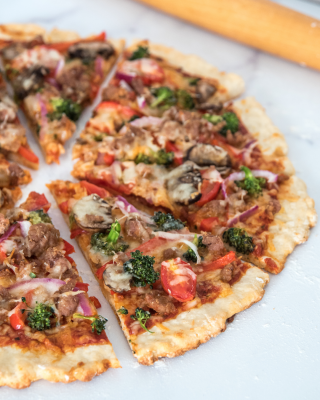 Ingredients:
2 links (182g) "Johnsonville' turkey Italian sausage
1 ¾ (210g) cup self-rising flour
1 cup (226g) plain non-fat Greek yogurt
¾ cup (189g) "Ragú" homemade style pizza sauce
1 cup (112g) "Kraft" Italian five cheese shredded cheese
½ (60g) red bell pepper (thinly sliced)
½ cup (44g) broccoli florets (chopped into bite-sized pieces)
½ cup (73g) cherry tomatoes (halved)
½ cup (43g) mushrooms (thinly sliced)
¼ (30g) small red onion (thinly sliced)
Instructions:
Preheat the oven to 425 degrees.
Remove casing from sausage. Spray saute pan with nonstick cooking spray and cook sausage. Crumble and set aside.
While sausage is cooking, mix together the self-rising flour and Greek yogurt in a large bowl until it forms a thick dough.
Turn dough out onto a piece of parchment paper and use a rolling pin to roll into a 12-inch circle. Slide the dough and parchment paper onto a large baking sheet or pizza pan.
Place the pizza dough into the preheated oven and bake for 4-5 minutes. Remove from the oven and evenly spread on sauce, leaving a half-inch border around the edge.
Evenly sprinkle half of the cheese over the sauce, followed by the veggies, crumbled sausage, and the remaining half of the cheese.
Return pizza to the oven and bake for an additional 11-13 minutes, until the cheese is melted and bubbly.
Cut into 10 slices and serve warm.
Notes:
Leftovers can be stored in the refrigerator in an airtight container for up to 3 days.
Any brand of pizza sauce, shredded cheese, and turkey sausage can be substituted, as desired (macros will vary slightly across brands).
If turkey Italian sausage is unavailable or a lower fat option is preferred, try cooking up an equivalent weight of lean ground turkey with 1 teaspoon Italian seasoning (macros will vary).
---
Some of the links above are affiliate links, which may earn Macrostax a commission at no extra cost to you.