Warm, juicy berries nestled under a crispy, golden top! Pair it with a little vegan yogurt and you'll have yourself the perfect, healthy dessert for a hot summer's evening.
Servings: 8
Serving Size: 1 serving (151g)
Prep Time: 10 minutes
Total Time: 55 minutes
Nutrition Facts: 273 calories / 44.5g carbs / 4g protein / 8.5g fat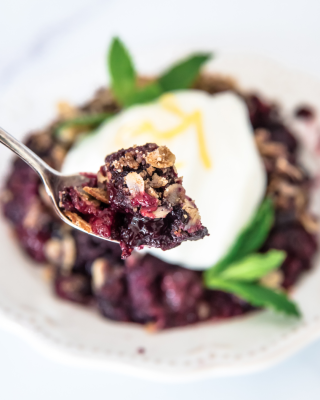 Ingredients:
8 cups (1120g) frozen mixed berries
7 tablespoons (63g) brown sugar (divided)
2 tablespoons (16g) cornstarch
1 ½ tablespoons (23g) lemon juice
1 teaspoon fresh lemon zest
1 ½ (135g) cups rolled oats
½ cup (62g) flour
¼ cup (55g) coconut oil (melted and cooled)
1 teaspoon ground cinnamon
¼ teaspoon salt
Instructions:
Preheat the oven to 375 degrees.
Spray a 9"x13" baking dish with nonstick cooking spray. Add mixed berries, 3 tablespoons brown sugar, cornstarch, lemon juice, and lemon zest directly to the dish and stir to combine.
In a large bowl, stir together oats, flour, remaining 4 tablespoons brown sugar, coconut oil, cinnamon, and salt until it forms a sandy mixture.
Sprinkle oat mixture over berries and bake for 40-45 minutes or until the berries are gently bubbling and the top is a golden brown.
Serve warm or at room temp topped with ice cream or yogurt (regular or dairy-free) and garnish with slivered almonds for extra crunch (macros not included for toppings or garnish).
Notes:
If possible, give the crisp a chance to cool before slicing. This will give the cornstarch a chance to thicken the juices from the berries.
Make this dessert gluten free by substituting the flour for a ½ cup of almond flour.
---
Some of the links above are affiliate links, which may earn Macrostax a commission at no extra cost to you.