Skip takeout with this easy Chicken Pad Thai! Ready in under 30 minutes and healthier than what'd you get at a restaurant, it's a flavorful weeknight meal for the whole family.
Servings: 4
Serving Size: 1 ⅓ cup (233g)
Prep Time: 10 minutes
Total Time: 22 minutes
Nutrition Facts: 399 calories / 41.5g carbs / 32.5g protein / 11.5g fat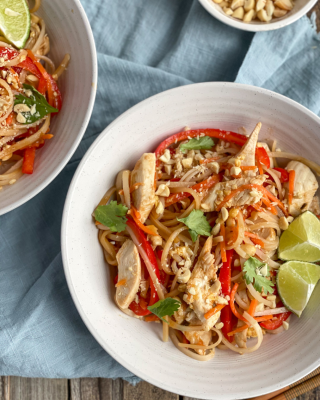 Ingredients:
4 ounces (112g) dry "Thai Kitchen" brown rice noodles
2 teaspoons (9g) olive oil
1 lb (454g) boneless skinless chicken breasts (sliced into thin strips)
1 medium (114g) red bell pepper (thinly sliced)
1/2 cup (55g) grated carrots
2 cloves (15g) garlic (minced)
1 large (57g) egg (lightly beaten)
2 medium (30g) chopped green onions
6 tablespoons (90g) "Thai Kitchen" Pad Thai sauce
2 tablespoons (30g) Tamari
1/4 cup (37g) unsalted peanuts (finely chopped)
Optional toppings: fresh cilantro, lime wedges, sesame seeds, or red pepper flakes (macros not included)
Instructions:
Cook the rice noodles per package directions. They should be soft but not mushy. Drain, rinse under cold water, and set aside.
In a wok or deep skillet, heat olive oil over medium-high heat. Once the oil is hot, add the sliced chicken and cook for 4-6 minutes, or until cooked through. Transfer the chicken to a paper towel-lined plate and set aside.
With the wok or skillet still over medium-high heat, add the bell pepper strips and grated carrots. Saute for 2 minutes. Next, add in the garlic and cook for another 1 minute.
Push the vegetables to the sides of the pan and add the beaten egg to the middle of the pan. Scramble the egg until cooked through, about 1-2 minutes.
Add the chicken, noodles, green onions, and pad thai sauce, and soy sauce into the pan and stir well to combine. Cook for 1-2 minutes, or until the sauce is heated through.
Remove the wok or skillet from the heat. Stir in the chopped peanuts. Add optional toppings (if using) and enjoy.
Notes:
Refrigerate the leftovers in an airtight container for up to 5 days.
You can also use ½ cup of bean sprouts instead of sliced red peppers for a more authentic Pad Thai (macros will vary).
To make this dish vegetarian, use cubed tofu instead of chicken (macros will vary).
If not gluten-free, you can use less sodium soy sauce instead of tamari.
To reduce the amount of sodium use coconut aminos in place of the tamari.
Depending on how large your skillet or wok is, you may need to cook the chicken in two batches.