According to legend, the name 'whoopie pie' came from the whoops of joy children would let out upon finding this sweet sandwich cookie in their lunch pails. Our version simplifies the whoopie-making process by using Kodiak muffin mix, thereby reducing sugar and adding protein for an easy, tasty, all-American treat — and that's definitely something to cheer about!
Servings: 12 whoopie pies
Serving Size: 1 whoopie pie (80g)
Prep Time: 10 minutes
Total Time: 40 minutes
Nutrition Facts: 284 calories / 32g carbs / 8g protein / 14g fat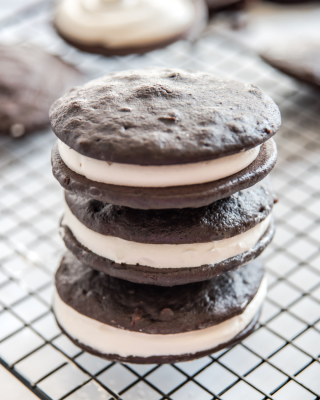 Ingredients:
1 package (397g) 'Kodiak' double dark chocolate muffin mix
3 tablespoons (15g) unsweetened cocoa powder
2 (100g) large eggs
1 cup (245g) 1% buttermilk
1/3 cup (75g) vegetable oil
5 ounces (140g) marshmallow creme
5 tablespoons (71g) butter (room temperature)
½ teaspoon vanilla extract
1/8 teaspoon salt
Instructions:
Preheat the oven to 375 degrees. Line 2 baking sheets with a silicone baking mat or parchment paper sprayed with nonstick cooking spray.
In a large bowl, whisk together muffin mix and cocoa powder. Add eggs, buttermilk, and oil to the bowl, stir until combined.
Scoop mounds of batter 2 tablespoons (34 g) at a time (alternatively, use a medium cookie scoop), onto prepared baking sheet, spacing at least 2 inches apart.
Bake 8-9 minutes until cookies are set and the tops spring back lightly when touched. Let cookies cool for 5 minutes before transferring to a cooling rack.
Scoop the remaining batter and bake as directed, for a total of 24 cookies
For the frosting, combine marshmallow creme, butter, vanilla, and salt in a large bowl and then beat with a mixer until light and fluffy.
Spread or pipe frosting equally on half the cookies and sandwich the remaining cookies.
Notes:
Make your whoopie pies mini! If a smaller treat is desired, simply spoon out the batter 1 tablespoon (21 g) at a time and reduce baking time to 6-8 minutes (macros will vary).
Whoopie pies will keep in the fridge, well-wrapped or sealed, in an airtight container up to 5 days.
---
Some of the links above are affiliate links, which may earn Macrostax a commission at no extra cost to you.