This seasonal salad is the perfect winter side dish for any occasion. Special enough for a holiday table, but could easily double as a weeknight meal as well!
Servings: 4
Serving Size: ¾ cup (104g)
Prep Time: 10 minutes
Total Time: 55 minutes
Nutrition Facts: 244 calories / 45.5 carbs / 7g protein / 4g fat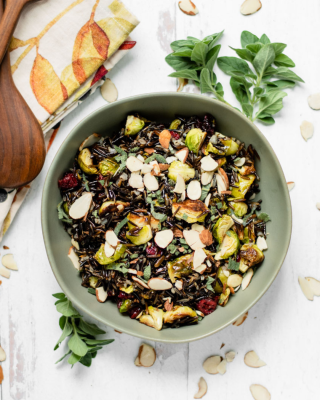 Ingredients:
1 cup (160g) uncooked wild rice
1 ½ cups (132g) Brussels sprouts (quartered)
⅓ cup (54g) "Craisins" dried sweetened cranberries
1 tablespoon (14g) olive oil
1 tablespoon (15g) lemon juice or white balsamic vinegar
1 teaspoon (7g) maple syrup
½ teaspoon salt
Optional toppings: sliced almonds, fresh minced sage or oregano (macros not included)
Instructions:
Cook rice per package instructions.
While rice is cooking, preheat oven to 375 degrees and line a baking sheet with foil. Place the quartered Brussels sprouts on the prepared baking sheet. Spray with nonstick cooking spray. Roast for 15-20 mins or until crispy and brown.
Whisk together olive oil, lemon juice, salt, and maple syrup in a small bowl.
Toss the cooked rice, Brussels sprouts, and cranberries along with the dressing in a large serving bowl.
Sprinkle with optional toppings (if using). Serve room temperature or cold.
Notes:
Store in the refrigerator for up to 3 days.
---
Some of the links above are affiliate links, which may earn Macrostax a commission at no extra cost to you.