This easy 30-minute Zesty Sausage and Veggie Skillet will become one of your meal prep go-to's! It's fresh, colorful, and cooks up in no time flat. Use any vegetables you have on hand and serve either with or without rice. This recipe is super versatile (and delicious)!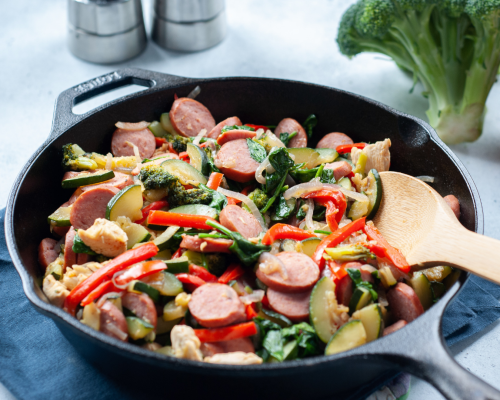 Servings: 4
Serving Size: 245g (just over 1 ½ cups)
Prep Time: 10 minutes
Total Time: 30 minutes
Nutrition Facts: 275 calories / 14.5g carbs / 24.5g protein / 14g fat
Ingredients
13oz (369g) "Eckrich" smoked turkey sausage (sliced)
4oz (113g) raw chicken breast (cut into 1-inch pieces)
2 medium (434g) zucchini (sliced)
1 cup (78g) chopped broccoli
1 red bell pepper (114g) (thinly sliced)
½ small red onion (47g) (thinly sliced)
2 cups (60g) baby spinach
1 teaspoon "Tony Cachere's" Creole seasoning
1 teaspoon olive oil
Instructions
Heat olive oil in a nonstick skillet over medium heat. Add the onion, bell pepper, zucchini, and broccoli to the pan. Saute for 10 minutes or until the veggies are slightly softened.
Add the sliced turkey sausage, chicken, and Creole seasoning to the pan and cook for another 5-10 minutes (stirring occasionally) until the chicken is cooked through.
Add the spinach to the pan and saute for 1-2 minutes or until gently wilted. Remove from heat.
Serve with or without rice! Add a sprinkle of red pepper flakes for some extra heat if desired.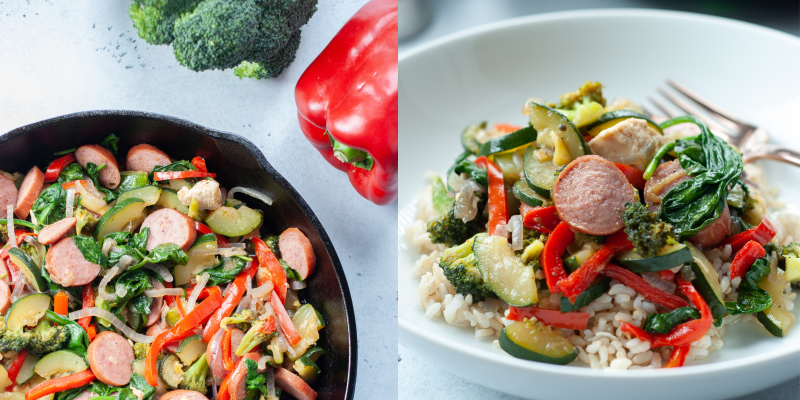 Notes
If served with ½ cup cooked brown rice the macros are: 384 calories / 37.5g carbs / 27g protein / 15g fat.
Use any brand of Creole or Cajun seasoning you prefer and season to taste. The macros are generally 0 for most brands.